3/3 last week, 2/3 the week prior! Nik Hatzi is running hot!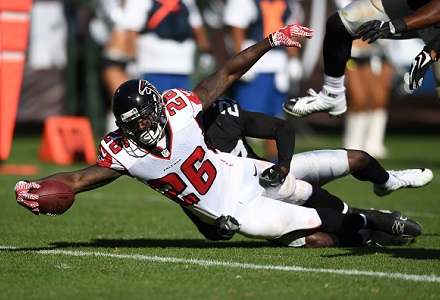 3/3 last week, 2/3 the week prior! It's fair to say we've been enjoying a good run! Lets look to keep the good times rolling in this slate of Thanksgiving weekend games. Be sure to check out Oddschecker for new material everyday and visit this one-stop shop of all things sport and racing! Good punting,
Nik Hatzi
Deposit 10 bet with 60
Arizona Cardinals at Atlanta Falcons
Unfortunately the line's been moving quite a bit since the start of the week. The Falcons are coming off a bye after losing to a Philadelphia Eagles team that is quite talented especially at home. Falcons performed respectably and had a couple of 50/50 calls not go their way, which could've changed the outcome. The Falcons now have 2 weeks to plan for these pretty predictable Cardinals. Carson palmer has gotten no protection in his last 6 games being sacked 26 times and turning the ball over 13 times. I don't trust Arizona and a clearly regressing Carson palmer. David Johnson has been the be all and end all of the Cardinals offence and with a couple of weeks to game plan, should have his impact minimized. The early east coast starting time has not favored the Cardinals in the past who are used to their west coast kick offs. With the Falcons averaging 37 points in their last 3 home games, I see the Falcons being able to cover this spread against a borderline lifeless cardinals team.
Atlanta Falcons -4 - 1pt @ 1.70
Cincinnati Bengals at Baltimore Ravens
Baltimore earned a lot of respect last week in battling the Cowboys close. The Cowboys are in a league above a lot of teams and there was no shame in the result of that contest. In this game the Ravens take on a banged up Bengals team. Not only are the Bengals having an atrocious season, but also they've lost arguably their two best strike weapons on offence. Aj Green, arguably one of the best receivers in the league and possibly the most valuable receivers in the league is out for this contest. Giovanni Bernard joins him on the injured list. Bernard's impact can't be underestimated, as he's been a prime blocking candidate for most of Dalton's throws this season. With him gone, that Baltimore pass rush could have a feast on the Cincinnati's red rifle. Cincinnati has only covered 8 of the last 25 games against the Ravens, and 0 of 5 of its recent road games. Cincinnati has had a good record against the Ravens in recent years, but for the same reason we bet against the Bengals and won last week, this isn't the same Bengals team of the last 4 years. Their defence is weaker, their offence has become more one-dimensional and challenged and Baltimore are the exact type of team that can take advantage of this. Cincinnati beat Baltimore twice last year and I know coach Harbaugh will be reminding his team of that in preparation for this game.
Baltimore Ravens -4 - 1pt @ 1.92
Jacksonville Jaguars at Buffalo Bills
* Disclaimer* only play this if LeSean McCoy is cleared to play. The Probowl running back dislocated his thumb last week and didn't play the 2nd half of the Cincinnati game (and we still won our pick!). The team expects him to go, but be mindful of this injury before laying your cold hard cash. Moving on, The Jaguars are done and dusted for the year. Coach Gus Bradley is keeping the seat warm for the next bloke who'll be hired soon (probably in the offseason, hopefully in the coming weeks) and the team just hasn't cut muster. In the NFL previews we put up, we told punters to ease up their excitement on this young Jags team. They outplayed Houston 2 weeks ago and found a way to lose. They kept it tight against the Lions last week and found a way to fail to cover the line. Jacksonville is 1-4 in its last 5 against the line in its last 5, 2-4 against the line against Buffalo and 2-5-1 against the line on the road. Buffalo are an emotional team. They win in bunches and lose in bunches. They lost 2, won 4, lost 3 and now grabbed a win for us last week against the Bengals. Buffalo has covered the line is all of its victories. Look for that to continue in this one.
Buffalo -7 - 1pt @ 1.80
New England Patriots at New York Jets
Lets face it, only a brave, brave man will bet the Jets to beat New England this week. Gang green's season is in shambles and have turnover prone Fitzpatrick back at quarterback isn't going to solve much. One set of stats I am wary of though, is the Jets' habit of playing close games with New England when playing at home. I like the fact the Jets are off the bye. I don't think they'll compete for the straight up win because the talent just isn't there on the roster. The bye will at least let the Jets game plan enough to keep the game competitive. New England didn't Blow out the 49'ers last week, and in a divisional rivalry, I look for it to be another close game. Rainstorms are forecasted which usually tends to cause lower scoring games. New England's last 3 victories over the Jets have come at 7, 1 and 2 points. Lets respect the rivalry but also respect the Patriots for being a class above the abysmal Jets team. Take the Pats 1-13.
New England 1-13 - 1pt @ 2.08