Our two tournament favourites meet at the MCG which should be a ripping game.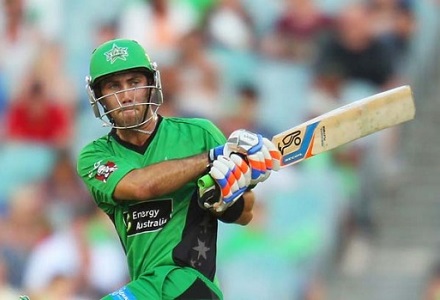 Melbourne Stars v Hobart Hurricanes Preview
Melbourne stars take on Hobart Hurricanes at the MCG and this could be the game of the tournament. We tipped both teams to do well in this year's Big Bash and both have shown moments of brilliance but have been inconsistent losing two games each. Arguably the two most explosive batting line-ups in the competition, this game promises to throw up a lot of maximums. It's hard to think it will be low-scoring with the likes of Maxwell, Wright, Pietersen, Hussey, Bailey, Christian, Paine and Sangakkara playing.

Melbourne came into the competition as favourites yet again and recorded decent wins against the Sixers and Renegades in their last two fixtures, although they were comfortably beaten by Adelaide in their opening fixture. The Stars big players have put in good performances but rarely in the same game. Hastings has once again led the way with the ball for the Stars, taking seven wickets in the three games he's played. Wright looked out of touch in the first three games but in typical Luke Wright style pulls a massive score out the bag from nowhere, he could be very dangerous versus Hobart.

Hobart go into the game in the top four but will be knocked out if they lose to the Stars, the Hurricanes have won one and lost one away from home this year, but not much can be read into beating Brisbane Heat. They were comfortably beaten by the Renegades in their last fixture where their bowling attack were taken apart by Gayle and Finch. The economy rates of Hobart will worry them, only Christian and Boyce have an economy under 8. However, they do have Cameron Boyce in their team, who is leading the way with the ball in this year's competition with 10 wickets.

We're backing the Stars to come out on top but both teams are inconsistent which makes it a difficult game to call. Melbourne have a few more players in form and capable of winning a game single handed. They're unbeaten in their last two, after making their traditional slow start.
Melbourne Stars - 1pt @ 1.67
Top Hurricanes Batsman
The huge MCG ground should suite Kumar Sangakkara as this man can thread the ball through any gap and he could accumulate a massive score on this vast playing area. Kumar has only scored 40+ once in this competition, but a player of this calibre has got to fire at least once in a competition like this. If the legendry Sri Lankan can put away his upper cut we're confident he'll perform at the G.
Kumar Sangakkara - 1pt @ 4.33
Top Stars Batsman
A star studded line-up makes it tricky to pick a top scorer for Melbourne, however Stan James are offering $4.5 for Luke Wright to top score which is far too tempting after his innings against the Renegades. He blasted an unbeaten 109 from 63 balls in the derby taking his seasons tally to 148 runs.
Luke Wright - 1pt @ 4.5
Top Hurricanes Bowler
The Stars have only lost three wickets to spin this year, which is why we're steering clear of backing Boyce. Instead, we're on Macklemore lookalike Jae reed. Reed got taken to the cleaners in the last game, however before that he'd taken six wickets in two games. He'll want to bounce back after a rather embarrassing performance last time out and is well worth backing at $5.
Jake Reed - 1pt @ 5.00
Glenn Maxwell Match Peformance - Spread Betting
Sporting Index makes predictions on a number of events and scenarios within a cricket match. The spread has two prices, a buy and a sell price. Our bet for this fixture is Glenn Maxwell. Maxwell is an immense talent who is yet to really fire in this year's competition, so far he's scored one 50 and taken two wickets. The Hurricanes have suffered against spin this year, losing 10 wickets to various spinners. Maxwell has only bowled in two fixtures this year taking three wickets but we feel he's got a massive role to play at the MCG. His unique style and array of shots will put him in good stead against the Hurricanes bowling attacking, coming in down the order he'll be able to play various sweep options to Boyce and will have no trouble against Christians medium pacers.. You can buy Maxwell at 43 points, You can buy points for any stake, but the more each point is worth, the bigger both your liability and potential return.
So, how does Maxwell get points? The following applies:
- 1 point per run
- 10 points per catch
- 20 points per wicket
- 25 points per stumping
If, for example, he scores 30 runs and takes one wicket, and nothing else, you're in profit if you Buy as he'll have scored 50 points (more than the 43 point spread). If Maxwell only scores thirty five runs he would get 35 points, leaving you on -8 points. Therefore if you staked $10 a point you'd lose $80.
But if Maxwell scores 45 runs, takes two wickets and a catch he'd score 95 points, which would result in a profit of $520 from a $10 stake. Hopefully this makes sense, but click through to the Sporting Index website for
further information
.
Glenn Maxwell - 1pt @ 43.00
Won 33pts