Betting Tips for every race at Penola. Today's best bet is in race 5.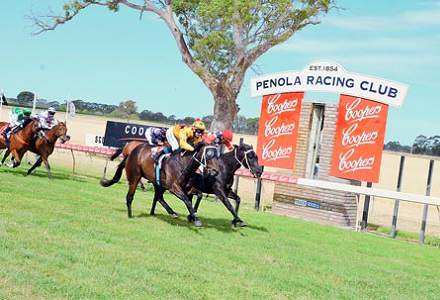 BEST BET:
Race 5 No5 ACTION IN RIO
"Has returned a different horse since returning from a spell winning its last start well after coming from mid field to get up on the line. Will strip fitter and just needs a touch of luck to be in the finish today. Look for it running home strongly, Huge chance"
QUADDIE: Races (5,6,7,8) 5,6,8,9 - 1,2,5,8 - 4,5,6,7 - 5,6,9,10
Deposit $25, Bet with $100!
RACE – 1: Penley estate/sabois maiden plate
7 AUTMED
9 BELAMBO
8 NEVA DOUBT US
4 PERFECT STORM
AUTMED - 1pt @ 0.00
RACE – 2: Patrick of coonawarra/sabois maiden plate
1 CENTENARY SHOT
3 HASTA LA SPEC
4 CITY MANEUVER
5 OUR REWARD
CENTENARY SHOT - 1pt @ 0.00
RACE – 3: Leconfield coonawarra/sabois maiden plate
6 GOT THE MUNCHIES
4 COOLIDGE
3 LUCKY BREEZE
8 REACT
GOT THE MUNCHIES - 1pt @ 0.00
RACE – 4: Richard ray insurance brokers benchmark 80 handicap
2 SUDDEN MOMENT
3 TIPPERARY LIL
1 HOOK ME UP
6 ARCADIAN
SUDDEN MOMENT - 1pt @ 0.00
RACE – 5: St hugo benchmark 60 hcp
5 ACTION IN RIO
6 DOWN THE HATCH
8 LITTLE PEARLA
9 SCROLL
ACTION IN RIO - 1pt @ 0.00
RACE - 6: Brands laira benchmark 60 hcp
1 ANY GIVEN CLASS
2 KARADOC KID
5 HIGH ROLLA
8 PILLAR OF DESTINY
ANY GIVEN CLASS - 1pt @ 0.00
RACE – 7: Coonawarra vignerons cup (2nd leg of limestone coast cups series)
5 VIVA ESPANA
7 BIANMAGIC
6 WELCOME NED
4 HASTA LA THOMAS
VIVA ESPANA - 1pt @ 0.00
RACE – 8: Hoggies estate wines benchmark 56 handicap
9 CONTILLA
10 BONNIE SORCIERE
6 ROUGAROU
5 LIFE'S A BUTTERFLY
CONTILLA - 1pt @ 0.00