Melbourne Stars are flying at the moment but come up a tricky fixture versus their Melbourne rivals. With players missing this could be a tight affair.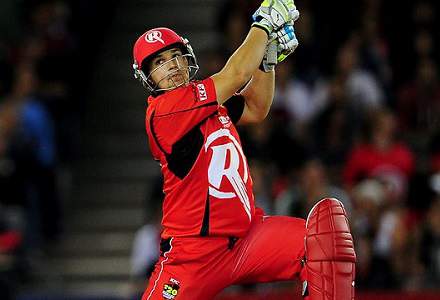 Melbourne Renegades v Melbourne Stars
The Melbourne Derby is the perfect viewing for a quiet January Saturday night! The Renegades play host to the Stars this evening in a game which will go a long way to deciding who finishes in the top four. Hopefully this game won't be forgotten about with the controversy surrounding Chris Gayle, a subject we're wisely steering clear of. The Hurricanes enter this fixture with two wins from five games, beating the Heat in their opening fixture and then cruising to victory against the Hurricanes last time out. They've got the firepower to beat any team, their opening partnership is formidable to say the least. Against Hobart, Finch and Gayle fired - they hit 84 in the first 35 balls and, with these two hitting a bit of form, it could be a tricky time to play the Melbourne franchise. If the Stars do manage to take early wickets, the Renegades middle order could be exposed who have lacked runs. Peter Nevill is expected to return, however they'll still be missing Siddle and Pattinson with the ball.

Stars come into the game after they smashed Hobart at the MCG three nights ago, they managed to knock off 124 with ease. After their traditional early competition wobble they're bang in-form and their star players are producing the goods. The depth in bowling has been the most surprising thing about the Stars last year, their slow bowlers produced the goods last time out taking four wickets for fifty from ten overs. Which could play a crucial role, as Boyce ripped through the top order for Hurricanes in Melbourne's last fixture.

We're backing in-form Stars to win this fixture, the Gades are dangerous and capable of blowing away any team in the world with Finch and Gayle at the top of the order. However the Renegades struggle with bowlers, with their international stars missing they can't quite figure out their fith bowler. With no bowler taking over five wickets for the Renegades the Stars batsman could have a day out. Melbourne Stars are bang in-form and will be very pleased to see Wright returning to form which is bad news for the rest of the tournament.
Melbourne Stars - 1pt @ 1.75
Top Renegades Batsman
We're backing Chris Gayle to make the headlines for all the right reasons tonight. Public enemy number one could tuck into the Stars slow bowlers if he manages to avoid getting out to Hastings again. Gayle has threatened in this competition without really going on, he's hit 110 of his 155 runs this season in boundaries so expect fireworks!
Chris Gayle - 1pt @ 3.3
Top Stars Batsman
As discussed, the Renegades struggle to take wickets, which makes backing a lower order batsman to top score for the Stars a ludicrous decision. We're backing KP to top score at $3.75 with Sportsbet, Wright is the man in form but think he could be suspect to Bravos change of paces to trouble him. Pietersen has had one big innings in the competition to date but his talent could bully the this attack.
Kevin Pietersen - 1pt @ 3.75
Top Stars Bowler
Michael Beer is having a steady competition to date, taking four wickets and going at six an over. Beer will get all his overs in this fixture as Maxwell and Faulkner won't be an option. The Renegades struggled against spin last time out, and could look to target Beer which could be a risky tactic. He took one wicket in this fixture on the second, but expect him to play a more crucial role tonight, and is well worth backing at $6.
Michael Beer - 1pt @ 6.00
Luke Wright Match Peformance - Spread Betting
Sporting Index makes predictions on a number of events and scenarios within a cricket match. The spread has two prices, a buy and a sell price. Our bet for this fixture is Luke Wright. Wright is in amazing form and as mentioned above he could be in for a field day if he manages to keep out the dangerous threat of Bravo early on. He won't be trouble by the remaining Renegades bowler and will tuck into people making up the 5th bowling position. Luke Wright used to be handy bowler but seems to have taken a rest from it in recent years, this perhaps could be from injury but if not could be an option tonight. Wright also finds himself in the key areas on the field, and is always good for a catch, taking three this season. You can buy Wright at 36 points, You can buy points for any stake, but the more each point is worth, the bigger both your liability and potential return.

So, how does Wright get points? The following applies:

- 1 point per run

- 10 points per catch

- 20 points per wicket

- 25 points per stumping

If, for example, he scores 20 runs and takes two catches, and nothing else, you're in profit if you Buy as he'll have scored 40 points (more than the 36 point spread). If Wright only scores 20 runs he would get 30 points, leaving you on -6 points. Therefore if you staked $10 a point you'd lose $60.

But if Wright scores 30 runs, takes a catch and a wicket he'd score 60 points, which would result in a profit of $230 from a $10 stake. Hopefully this makes sense, but click through to the Sporting Index website for further information.
Luke Wright - 1pt @ 36.00