Cantillate gets the blinkers on and should be very hard to beat from the front.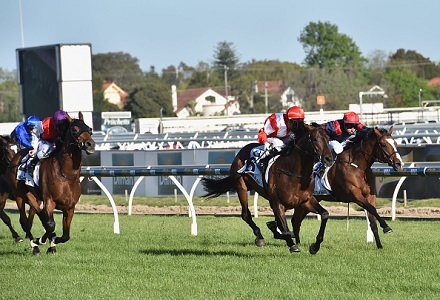 Mornington R3 No.6 - PLYMOUTH ROAD
Thought this gelding was quite good on debut when well backed, wobbled around the bend but made good ground late and not entirely convinced he appreciated the sting out of the track. All the better for the debut and gets on top of the ground, drawn for the right run and extra 300m in trip no doubt suits.
Plymouth Road - 1pt @ 2.7
Won 1.7pts
Mornington R4 No.1 - CANTILLATE
Debut at Seymour over 1200m was good and was only run over late by a more seasoned galloper (horse who finished 7th has since won!), blinkers go on here (big tick) which will no doubt sharpen him up. With natural improvement/leading on a track that suits on-pacers he should be mighty hard to beat. Key rivals will be getting back, can pinch a break on them rounding the home turn.
Cantillate - 1pt @ 3.7
Lost -1pts