Tom Gilmore has five cracking tips to finish off our Easter weekend!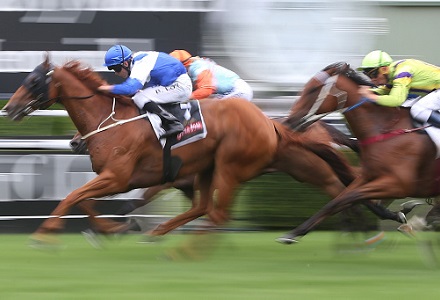 Sandown R1
Sandown R1 No.9 - RECALCULATE

Was initially sceptical of his last win but on review it was very good, tracked a good speed and was strong late through the line under the circumstances. Like the progression to 1400m as he's giving the impression it'll suit and from the good draw he'll have every favour in the run. Could make Saturday grade in time this campaign, will beat this lot on his way.
No.9 - RECALCULATE - 1pt @ 2.8
Sandown R3
Sandown R3 No.1 - PRESCIENCE (x2 NAP)

What a good thing beaten his last two starts both here and at Moonee Valley, has gone back early off inside draws and been ridden for luck upon straightening (and never found it), has found trouble but run through the line superbly. Over-joyed by the fact he's drawn out today, can be midfield three deep with cover and should just win, betting up today!
No.1 - PRESCIENCE - 1pt @ 2.35
Sandown R6
Sandown R6 No.12 - TESSABELLE

Thought she beat a decent enough bunch of Maidens here two weeks ago when jumping to the front and controlling things throughout, kicked away like a good horse should and won comfortably. Often see horses like this jump to BM64 grade and go on with it (carries no weight). Should again find the front and big tick they've remained at the 1500m. Pattern will suit those closer to the speed, too.
No.12 - TESSABELLE - 1pt @ 3.3
Warwick Farm R2
Warwick Farm R2 No.7 - MOST EXALTED

Like this 3yo quite a bit, very pleased to see he's had the 'ultimate gear change' in preparation (was a wayward colt) which will no doubt sharpen him up. Recent trial at Randwick 18/3 was very slick, looked well and performed accordingly. Just missed on debut last year to Montauk who went on to win at Saturday grade in town, with that in mind he should be far too good for this lot.
No.7 - MOST EXALTED - 1pt @ 2.25
Warwick Farm R3
Warwick Farm R3 No.4 - PICO TURQUINO

I deadset hate this horse, but I find it hard to see her losing today. Found the mile a bit slick in better company before she progressed to 2100m at Gosford and was very good, got back but found the line strongly after being given the chance to balance up. Ran through the line like a horse who'll get the trip with ease and there are no superstars to overcome here. Speed actually looks ok on paper and has J.McDonald on board. Will be savaging the line late.
No.4 - PICO TURQUINO - 1pt @ 3.9