The lead up to the Doomben Winter Carnival is well and truly underway!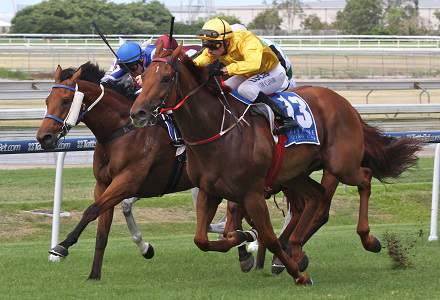 The meeting the week before the Queensland winter carnival officially starts is traditionally low key but this year Doomben features some very smart horses on their way to better races.

The forecast is for fine weather and the only danger will be a late season storm. However, the track should be good. The rail is out seven metres, which usually suits front runners but last week the surface was chopped about due to some rain in the previous days. The surface usually holds up well but, as you would expect for a course which has hosted 64 meetings a year, there is fill, which often goes flying by race 5. In other words, on days with the rail out wide, it can sometimes be the case to get wider late in the day.


QUADDIE (Races 5-6-7-8)

SKINNY PLAY: 1-4-5/1-3-7/1/10
WIDE PLAY: 1-2-4-5-7/1-3-7-9-10-11/1-3-5-10/6-10-14 SKINNY PLAY: 1-4-5/1-3-7/1/10 WIDE PLAY: 1-2-4-5-7/1-3-7-9-10-11/1-3-5-10/6-10-14
R1 12.18pm Benchmark 85 - 2220m
An even field of stayers but that is always the case in Brisbane where they virtually take it in turns to win restricted staying races. But for all that, WALHAAN is the one with most potential. He scored a strong win at the Gold Coast and even though there has been four weeks between runs his trainer is noted for keeping his horses fit. Walhaan has won this track and distance in similar company. He should also get the pace he needs to run home strongly from a perfect barrier draw. Don't let anyone convince you barriers aren't important from Doomben staying starts. The first turn out of the straight is a hairpin and if they are caught deep on it, horses often end up running off the track and losing all hope with 1900m to go.
RANKED did his early racing in England and won at Newmarket. After failing when sold to Victoria, he has been consistent in Queensland and had no luck when looking for a horse to bring him into the race last time.
PUNTA NORTE has a heap of ability but is an enigma who doesn't always try his best. He has no weight after the claim and should be able to either lead or sit just behind the pace.
CAILLEBOTTE has been racing well in easier provincial races but looks to be a genuine stayer.
SELECTIONS: No3 WALHAAN
, No2 Ranked, No4 Punta Notre, No8 Caillebotte.
VALUE RUNNER:
No2 RANKED.
Don't miss out on TopBetta's
Lucrative Saturday Tipping Comps!
Walhaan - 1pt @ 3.20
R2 12.53pm Two-Year-Old Handicap - 1050m
NICCONI LEGGERA would have been odds on had she not drawn the outside barrier, which is usually deadly from this start. But she does have a lot of pace and several of her main rivals have also got bad barriers.
One of those to draw badly was RARE OCCURRENCE, who was one of the early stars of the two-year-old season. She has worked very well in recent weeks and the stable usually has them ready first up.
REAL CLASSIC trialled very well at the Gold Coast and is one horse which is drawn well. His trials have indicated that he can hit the line hard while taking up a good position from the barrier draw. Real Classic is a half brother to the handy Siegfried, which indicates he will be even better at 1400m or further. But fresh, he will be hard to beat.
OINK is looking for at least 1200m but there are no suitable two-year-olds of that distance in Brisbane at the moment. He trialled in blinkers at Deagon recently and made short work of an ordinary field. Oink's best chance is a mad speed early here.
The interesting runner is He's For Real, who is a full brother to Magic Millions winner Real Surreal. No trials but he is reported to be handy and the stable is noted for first up winners who have not trialled officially.
SELECTIONS: No6 NICCONI LEGGERA
, No7 Rare Occurrence, No8 Real Classic, No2 Oink.
VALUE RUNNER:
No4 HE'S FOR REAL.
Boost the odds of any runner you like with
Ladbrokes ODDS BOOST Feature!
Nicconi Leggera - 1pt @ 3.60
R3 1.28pm Benchmark 85 - 1200m
DREAM OF SLIPS trialled well before resuming but his two runs from a spell have been handy without being outstanding. Perhaps getting clobbered by Buffering in an exhibition gallop has given him nightmares. Then again just about every horse Group One star Buffering has had a public gallop with in recent years has then struggled for form. Hard to know whether there is anything it in but it is just an unusual side bar. But Dream of Slips gets in here with only 52kgs and he should be able to camp on the pace from his good barrier.

FELTRE has switched stables and has a 3kgs claim. He wants a softish track without being too wet. There is no doubt he wants it further but he has class on this field.

PRIMAL FLIGHT goes well fresh and trialled okay at the Gold Coast. His six wins have all been at 1200m and he has a lot of early speed. He has trialled but was just okay in a very fast time.

DECONSTRUCTED had future star written all over him last campaign and should be fitter for two ordinary runs this time. The stable has found plenty of excuses for his last start run but this is his real test if he is to be a winter carnival horse.

SELECTIONS: No 9 DREAM OF SLIPS, No1 Feltre, No3 Primal Flight, No5 Deconstructed.
VALUE RUNNER: No1 FELTRE.
Dream of Slips - 1pt @ 7.00
R4 2.07pm Class 6 Plate - 1640m
RECKLESS ABANDON is starting to live up to his early promise and has won his past two starts. He should be even better at distances longer than 1600m. He was tried as a stayer as a three-year-old and had no luck in stakes company. Don't be shocked if he wins a fairly strong race this winter.

TAN TAT DIAMOND has been very consistent since coming to Queensland from Peter Moody and has also won his past two starts. He is starting to get up in the weights and he does need a lot of pace in his races, which he may not get here.

HEART OF A WARRIOR is another who has raced very well in these types of races. He might even lead here as there is not a lot of pace on paper.

DREAM SPEED would have started as favourite at Ipswich on Wednesday but was scratched for this. He blew them away on a heavy track last start but his dry track runs have been littered with unlucky stories. His trainer Matt Dunn has been having a good run, so he looks the main knock out hope.

SELECTIONS: No5 RECKLESS ABANDON, No4 Tan Tat Diamond, No3 Heart of A Warrior, No9 Dream Speed.
VALUE RUNNER: No9 DREAM SPEED.
Reckless Abandon - 1pt @ 4.20
R5 2.47pm Three-Year-Old Handicap - 1050m
DIVINE CENTURI is living up to her breeding and racing very well. Connections thought enough of her to accept for the P J Bell Stakes in Sydney last week but scratched when she drew an outside barrier. She beat Mydalea last start and that horse was one of the wins of the day at Ipswich on Wednesday.

BLUEBERRY HILL is the class runner having won a Group 2 race last season. She has had a few problems but she would win on best form. Her trial was only fair but the stable never knocks their horses around in jump outs or trials.

PERFECT DARE will want further but is also promising and had no luck first up last campaign. Perfect Dare was more than competitive in Sydney last time in and not far away in Group 3 company at his start before a spell. He was very impressive in winning his Gold Coast trial last week.

MAGNETTE is resuming but has good enough form to win a race like this. She is probably best in the wet but the form around Murt the Flirt and Les Darci is stronger than this race for a horse on the minimum.

SELECTIONS: No4 DIVINE CENTURI, No1 Blueberry Hill, No5 Perfect Dare, No2 Magnette.
VALUE RUNNER: No2 MAGNETTE.
Divine Centuri - 1pt @ 3.80
R6 3.27pm Three-Year-Old Fillies Handicap - 1350m
BANDA SPICE is resuming but has been competitive against much better horses. She is a first up winner and has jockey Damian Browne who is in superb form. Banda Spice's Doomben form doesn't look great on paper but it includes some very good runs when just behind the pace in stakes races.

RAINBOW LACE has won both her starts and is bred to win the Oaks. She won a Gold Coast trial like a good horse in the lead up to this. The trainer has huge wraps on her. At her last start she was never on the track but kept coming like a horse who can resume at 1350m and win, as is the case here.

KEBEDE has been racing well in easier races but this isn't hard and has been drawn nicely for her style of racing. She has fitness on her side and her wins in the provincial races were against above average fields for that class.

SUBSOLAR had a 10 day break after her last start when very unlucky over 1800m. She will be improved by this run but she is promising.

LADY NO MORE was fourth in a recent Deagon trial, which should have her fit for her comeback and she has won first up. She should have finished closer to Eagle Way at her last start before a spell and that horse is rated Queensland's best hope to win the Queensland Derby. The only reason she isn't in the top four tips is top weight of 59kgs, which usually proves a task in these type of races.

SELECTIONS: No3 BANDA SPICE, No7 Rainbow Lace, No9 Kebede, No12 Subsolar.
VALUE RUNNER: No1 LADY NO MORE.
Banda Spice - 1pt @ 8.00
R7 4.07pm Open Handicap - 1350m
SIR MOMENTS wasn't suited by a very slow pace last start. Again he has a big weight but this time there are five horses in the field who usually go forward. Surely there will be a decent pace and he will be running home fast. He is a stakes class horse and deserves another chance. Sir Moments beat some outstanding horses when he won the Queensland Guineas as a three year old and he ran second to Leebaz in last year's Hollindale Cup before injury forced him out of the winter carnival. He has won twice at Doomben but it would wise to ignore his statistics at the track and distance, which read one third from four starts. But there have been genuine excuses for some of his defeats.

JOPA is one of the most honest horses in Brisbane but his best form is on soft tracks. Nevertheless, he goes well on dry tracks and again gets in on the minimum after Brooke Stower's 2kgs claim. He does look very nicely placed at the weights.

ELLAWISDOM has a terrible Doomben record of one third from seven starts but she is racing much better this campaign. She is another who wants the pace to be solid as she showed when rattling home to be third at Doomben last start. The trick with her is pace and the track surface, which can't be too hard or too heavy.

LUCKY BLACK has been consistent in restricted class of late but is suited in this type of open handicap. The stable was going to sell him after his last start win but decided to give him a chance in open company. A start for him was not going to be confirmed until Friday night but at the time of writing he has to be included in the main chances.

CHARIOT OF GOLD is up in class but is down in the weights. He likes to lead as do several other runners in this race. But the stable is confident he has matured enough to take a sit and win here. If a late storm hits, he will shorten dramatically in betting as he loves wet tracks.

SELECTIONS: No1 SIR MOMENTS, No3 Jopa, No5 Ellawisdom, No6 Lucky Black.
VALUE RUNNER: No10 CHARIOT OF GOLD.
Sir Moments - 1pt @ 3.80
R8 4.47pm No Metro Wins Handicap - 1350m
ELEGANT COMPOSURE is unbeaten in four starts at provincial tracks and has been most impressive. She is very promising and only needs luck from a tricky barrier to win this. Stakes races in the winter are being talked about for Elegant Composure and if she is headed to them she must win this. Her jockey Jim Byrne has declared her a possible star and he will need a doctor's clearance to ride her on Saturday after being injured on Tuesday.

RAINBOW MAGIC has been very good on the past two starts and the 2kgs claim will suit him here. The stable have pinpointed this race as one he can win. He is one of those horses which has always been about a length of city class but seems to be getting much better with age.

ORADONNA was one of the few horses to make ground out wide last start and she is also promising. Her entire family have been very good gallopers and she looks certain to carry on the tradition.

SANKARA SPIRIT hasn't had much luck since coming from Victoria but has been backed a few times. He should improve here and on his best form would be hard to beat with a light weight. He probably should have won his first start this area when fourth and then didn't seem to handle the Gold Coast track at his last start. But that is not unusual as it can be tricky for those having their first start on it.

SELECTIONS: No10 ELEGANT COMPOSURE, No6 Rainbow Magic, No14 Oradonna, No16 Sankara Spirit.
VALUE RUNNER: No6 Rainbow Magic.
Elegant Composure - 1pt @ 2.90