The first day of the Queensland winter carnival will certainly test punters.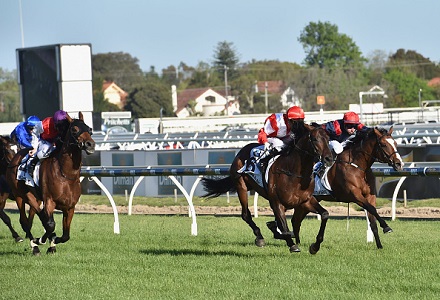 The first day of the Queensland winter carnival will certainly test punters. The Toowoomba Weetwood Handicap meeting was run as a show day Thursday event with great success for decades. However, it has since been swapped to a Sunday, a Saturday night and now a metropolitan standalone Saturday race meeting. To make matters harder, the Toowoomba race track has also had several facelifts having gone from grass to a cushion track and back to a grass surface in the space of 10 years. In other words, the recent statistical history of the Weetwood and supporting races is no sure guide because they have not been run on a consistent surface. One thing that has remained consistent is that Toowoomba is one of the most difficult tracks in Australia for horses having their first start there. It is built on the side of a hill. There is a sharp rise from about 600m to the home turn and then a relatively short run home. The longer races also see the field running down the hill for about 600m. As daunting as all that may sound, Toowoomba is a track which can help punters if you generally stick with horses that have raced there or are trained on the track. For instance, the past six Weetwood winners have been trained at Toowoomba and 75 percent of the winners of the race since WWII have also been locally trained. It is a similar statistic for the Toowoomba Cup. The forecast is for fine weather so the track should be in the good range. There has been no meeting in Toowoomba for a fortnight so there should be no bias, or at least we can hope there will be no bias.

Quaddies
SKINNY: 1-5/2-3/2-3/6-7
WIDE: 1-3-4-5-11/2-3-6/2-3-4-9/5-6-7-11-12
R1 12.13pm Benchmark 80 Handicap 1625m
COL 'N' LIL is a tiny mare with a big heart. She was a very good first up winner at Doomben and then last time ran into a bit of trouble when behind Lucky Black. The 1600+m will suit her and she has a handy record at this track.

ANYMORE caught the eye when fourth last start in a better standard race than this. He has been placed in his only two starts on this track. Anymore also has a 3kgs claim which brings him into the race very well.

RULING FORCE was a surprise winner at his first start since coming from West Australia in January. His runs since have all been good without winning as he hasn't had much luck from bad barriers or striking shifty tracks. The barrier is no help and he is making his debut on this track. But the stable is in form.

PEARLY COURT loves this track but is best known as a wet track horse. However, she is from an in-form Toowoomba stable and will get in under the limit after Bridget Grylls' claim. The other question mark is whether she will run a strong 1600m.

SELECTIONS: No6 COL 'N' LIL, No4 Anymore, No2 Ruling Force, No9 Pearly Court.
VALUE RUNNER: No4 Anymore.
Col 'N' Lil - 1pt @ 3.30
R2 12.48pm Fillies & Mares Benchmark 75 Handicap 1050m
STAR DROP won like a promising horse in her two starts before a spell. She wasn't knocked around when third in a trial behind Arthur Le Roi at Toowoomba two weeks ago. Star Drop has won first up, has a claim and barrier one. She does look the one to beat here.

SARISARA has always shown promise although she has had some problems in her career. Sarisara won a trial in Toowoomba in very slick time two weeks ago. She also has a claim here but the outside barrier is no help. She will need luck but can finish very strongly.

PUFF'S GIRL has a very good record on this track and the distance suits. She isn't claiming, which makes her poorly weighted against some of the competition, but with luck she should be in the finish.

TOTAL AUTHORITY is resuming and has a big weight. However, she won't carry much dead weight with Brad Pengelly on board and at her best she would be in the finish.

SELECTIONS: NO3 STAR DROP, No2 Sarisara, No5 Puff's Girl, No1 Total Authority.
VALUE RUNNER: No5 Puff's Girl.
Star Drop - 1pt @ 5.50
R3 1.23pm Benchmark 75 Handicap 1050m
PAYBACK is a brilliant galloper when things go right. He has had throat and breathing problems having undergone two operations in the past two years. This is the toughest field he has faced but many of these are old geldings who have seen better days.

EXECUTED is an honest galloper and he flew home on the final 100m when second at Doomben at his last start. From barrier five he shouldn't get too far away and if they go crazy in front, watch for him rattling home. He does have a good record third up and also has the in-form Brad Pengelly on board.

GRACIDA has a stack of pace and has the benefit of a claim here which will suit. He is owned by one of Toowoomba's best known vets and he would love to win a race on Weetwood day. Toowoomba-based owners love bragging rights for the next year.

BRAVE DAZZLER has won three races on this track and been placed another four times. He is not harshly weighted here and, with a lot of pace in the race, he should be finishing very fast.

SELECTIONS: No8 PAYBACK, No5 Executed, No10 Gracida, No11 Brave Dazzler.
VALUE RUNNER: No11 Brave Dazzler.
Payback - 1pt @ 5.00
R4 2.00pm Dalrello Stakes 1200m
LOVE SPY would have been a shorter-priced favourite if she had not drawn barrier 12. But she does have the pace to get into a handy position and her class might carry her through. Top jockey Jim Byrne has been very keen to ride her this campaign despite drawing bad barriers.

SPOT THE DIFF has been ultra-consistent and is always a hope in these two-year-old races. Things have gone her way in recent starts but this time she has a tricky barrier. On the plus side, even though this is a non-claiming race, she gets in well at the weights.

EMTEVEE QUEEN was rated a Magic Millions Two-Year-Old Classic hopeful before soreness ruined her summer. She has always shown that at least 1200m would suit her. The big question is whether 1200m first up around this track will be too tough.

CRACK ME UP finished very hard last start and is another who wants 1200m. He is fit, well drawn and has a top jockey. The only problem is having to give weight to the fillies.

SELECTIONS: NO6 LOVE SPY, No5 Spot The Diff, No8 Emtevee Queen, No3 Crack Me Up.
VALUE RUNNER: No10 Sugarparma.
Love Spy - 1pt @ 3.80
R5 2.38pm Toowoomba Guineas 1625m
SHOTACROSS THE BOW was only fair first up but he is much better than that run. He is seen as a possible Queensland Derby horse and as such will be much better suited this distance. There is sure to be pace here and that will also suit him as he has a very strong 200m burst.

CRAIGLEA WANDOO has seen more of Australia than the Leyland Brothers having run in Mackay, Brisbane, Sydney and now Toowoomba at his past four starts. His fourth in a Group race in Sydney last week was outstanding coming from near last at the 600m.

HAVASAY seems to be back to his best form in winning two races and then flashing home when third at Doomben last start. He has always promised to be a top-flight horse and this should be a stepping stone to better races.

EMPHASIS has been a model of consistency and is trained on this track. If he can win, it will be an extremely popular result as his trainer, Richie Stephenson, is a legend in Toowoomba.

BIG DOLLARS has been racing well in much easier races but he is handy and will be up near the pace. Big Dollars will be huge odds but if there is the usual interference behind him he might sneak into the place money.

SELECTIONS: No5 SHOTACROSS THE BOW, No1 Craiglea Wandoo, No4 Havasay, No3 Emphasis.
VALUE RUNNER: No 6 BIG DOLLARS.
Shotacross The Bow - 1pt @ 7.00
R6 3.17pm Toowoomba Cup 2000m
HONEY TOAST was headed for the Adelaide Cup before connections decided to concentrate on this race. He was given a freshen and then raced very well over 1600m when second two weeks ago. Honey Toast is trained at Toowoomba and has raced well here. His trainer, Ben Currie, has made it clear he has always wanted to win this race.

VOLKHERE ran second in this race last year to Gai Waterhouse's top galloper, Pornichet. Volkhere's jockey, Jim Orman, is in great form and cut his teeth riding around this tricky circuit. His wide barrier is no help from this start but he should be able to roll forward into the lead or just off the pace.

IGGI POP is a stakes winning stayer who is coming back from a serious injury which saw him not race for 18 months. But his two runs in shorter races this time have been very good and he will be much better against this field over this distance.

UNO FIVE has been up a long time but generally races well in these staying races. He is on the minimum but interestingly his usual rider, Jim Orman, has switched to Volkhere. He is a horse who has won more than $150,000 this campaign but remains on 54kgs.

TRAKSTAR has been a disappointment of late but has been set for this race and looks good value.

SELECTIONS: No3 HONEY TOAST, No2 Volkhere, No1 Iggi Pop, No6 Uno Five.
VALUE RUNNER: No 5 TRAKSTAR.
Honey Toast - 1pt @ 2.60
R7 3.57pm Toowoomba Weetwood Handicap 1200m
PILLAR OF CREATION should have won this race last year after coming from Melbourne and he has since been one of the most consistent sprinters in Queensland. He won his past two starts in good fashion and has had a freshen. The last six Weetwood winners have been trained in Toowoomba and Pillar of Creation fits that bill.

HARD STRIDE is also from Melbourne and is a stable mate of Pillar of Creation. He has been working well and on his best form would be right in the finish.

COOLRING has very good Sydney form and was third behind the ruling Group One Stradbroke favourite at his last start. He is a short priced favourite for this race. Coolring is a top chance but don't take silly odds about him.

JUMBO PRINCE goes very well first up having won three from five starts. He is being set for the Brisbane Cup but is a horse that does sprint well when fresh. If there is a mad pace up front, he can get to the outside and mow them down.

PINCH RIVER has trialled well and there were major excuses for his first up failure. This time he is very well drawn and should get the run of the race.

SELECTIONS: No2 PILLAR OF CREATION, No5 Hard Stride, No3 Coolring, No4 Jumbo Prince.
VALUE RUNNER: No 12 PINCH RIVER.
Pillar of Creation - 1pt @ 11.00
R8 4.37pm Class 6 Plate 1200m
TRUBIA is a very promising horse and has trialled well in the lead up to this. He will be much fitter for that trial and should be able to have the last run at the leaders.

UPSTART PRIDE ran a course record at his last start over 1000m and is usually as effective at 1200m. He was being set for the Weetwood but connections believed at this stage of his career he was better placed here. Upstart Pride is brilliant out of the barriers but can also miss the start on occasions.

KRAFTWERK has been in excellent form and was also headed for the Weetwood before connections decided to go for an easier race. He can handle all types of tracks and should handle a first start at Toowoomba.

DENARIUS has been dogged by bad barriers and is again drawn off the track. He does have plenty of ability and if he can get cover, he can rattle off some very fast sectionals.

MURDER OF CROWS was handy first up from a break. This is much harder but he should be suited the way the race will be run and he has a very good barrier.

SELECTIONS: No6 TRUBIA, No7 Upstart Pride, No5 Kraftwerk, No11 Denarius.
VALUE RUNNER: No12 MURDER OF CROWS.
Trubia - 1pt @ 4.20