The Winter Racing Carnival continues from the Gold Coast this Saturday!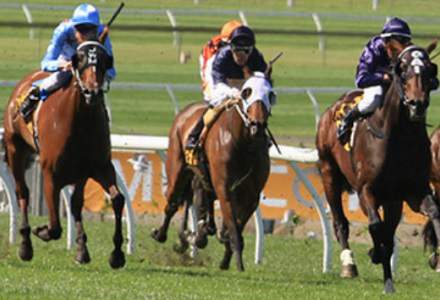 The Gold Coast has had plenty of rain but the track should dry out to be in reasonable condition on Saturday. The Gold Coast can be a tricky track for both horses and jockeys. It turns for a good way and horses often get on the wrong leg. On some days there are also genuine fast lanes which usually involve getting away from the fence in the straight. The rail is out one metre from the 1000m to the home turn but in the true for the rest of the track.

Skinny quaddie 1 6/ 2 3/ 1 5/ 1 5 13
Wide quaddie 1 5 6 12/1 2 3 5/ 1 2 5 12/ 1 13 5 12
R1 11.50am JAGUAR F-TYPE BenchMark 85 Handicap 1200m
LUCKY TOM has often been touted as a Group horse and actually ran in the Caulfield Guineas as a three-year-old. He has generally been disappointing but for all that he has had little luck in most of his races. He recently trialled very well and has Blake Shinn in the saddle. He has never won first up but again has had no luck a few times.

LONDEHERO is another horse which has been generally disappointing. But he ran home strongly first up at 1000m and he should be suited here with plenty of pace.

FLYING RIDDLE has been racing well and he was very good in open company when fifth in the Weetwood last start. He has a claim here and is another who should be suited by a fast pace. One of his best runs in the past was at this track.

APPLE THIEF deserves a win as he has been near the money in all of his Queensland starts. He is back on his home track here and should be able to get a nice sit just off the pace.

SELECTIONS: NO4 LUCKY TOM, NO6 LONDEHERO, NO2 FLYING RIDDLE, NO9 APPLE THIEF.
VALUE RUNNER: NO9 APPLE THIEF.
Lucky Tom - 1pt @ 5.00
R2 12.25pm CITY OF GOLD COAST BenchMark 80 Handicap 1800m
WALHAAN was a gross failure at his most recent start when favourite at Doomben. If you forgive him and go on his previous start at this track and distance, he is the top chance. He won that race like a good horse and has a claim here.

COL'N'LIL is out to a distance which suits her and she has a 3kgs claim here. Her jockey, Josh Oliver, has ridden a stack of winners around the provincial tracks and deserves a go in town. She should race on the pace and with the minimum weight is a definite chance.

AVALANCHES has been racing in much better company than this. He has won five races at this track and distance. In fact, all of his wins are on this track and at this distance. A bonus is top jockey Blake Shinn. He might even lead her and dictate the pace.

CANONGATE appeals as the best of the others after winning at this track last start. He doesn't appear harshly weighted and should be running on here.

SELECTIONS: NO1 WALHAAN, NO3 COL'N'LIL, NO4 AVALANCHES, NO11 CANONGATE.
VALUE RUNNER: NO11 CANONGATE.
Walhaan - 1pt @ 6.50
R3 1.00pm JAGUAR XJ KEN RUSSELL MEMORIAL CLASSIC QTIS Two-Years-Old Plate 1200m
IMPENDING is the top tip in another winter carnival race which is notorious for producing an upset. The Sydney two-year-old form is generally stronger than Queensland and Impending trialled very well before his first up win. He was most impressive in that win and should handle a soft track and the distance on breeding.

SUNDANCE has been scratched a few times recently but on his best form will be hard to beat. He has trialled well and, although he was not beating much in the trial, the time was fast. He should be up on the pace the whole way and change the luck of the stable with its two-year-olds of late.

SPOT THE DIFF has won at this track and is a very consistent filly. She is well drawn again and the set weights suit her.

OINK is still very immature, which make his three runs to date very good. He is capable of winning a very good race when the penny drops. Maybe he wants a bigger track but he is a definite chance here. CHARNLEY RIVER races like he wants 1600m but if there is a hot pace here, he will be running home hard.

SELECTIONS: NO4 IMPENDING, NO1 SUNDANCE, NO 9 SPOT THE DIFF, NO2 OINK.
VALUE RUNNER: NO5 CHARNLEY RIVER.
Impending - 1pt @ 1.65
R4 1.40pm ALL-NEW JAGUAR XE GOLD COAST BRACELET QTIS 3-Y-O Fillies Plate 1800m
IMPOSING LASS is headed to the Queensland Oaks. She is bred to stay all day and has won three of her four starts at shorter distances. She has a very good turn of foot and should handle a wet track. The stable really thinks she can win the Oaks which makes her hard to beat.

QUEEN OF WANDS has been running home very fast in her races. She isn't bred to get much past 1600m but races like a stayer. It can be a trap to be backing horses who run home in shorter races in middle distance events but she has class on her side.

DAWNIE PERFECT is Queen of Wands' stable mate and she had excellent form in the spring before an infection ruled her out of the Victoria Oaks. You should forget her last start at Doomben when she never got a real go at them as she is bred to stay all day. Expect better here.

KEBEDE has stayer written all over her and she has been most consistent. This is her real test but she should be in the finish.

SELECTIONS: NO6 IMPOSING LASS, NO1 QUEEN OF WANDS, NO2 DAWNIE PERFECT, NO7 KEBEDE
VALUE RUNNER: NO2 DAWNIE PERFECT
Imposing Lass - 1pt @ 3.80
R5 2.20pm BETTER THAN READY SILK STOCKING 1200m
MISS COVER GIRL has been dogged by bad barriers in her career but always races well. This time she has a good barrier and a track to suit. She is very good first up and likes the Gold Coast, where she has won three times. She has shown she is capable of racing with the best with three excellent performances in Sydney in her career. This looks like her chance for another stakes win.

BRING ME THE MAID has never regained her best juvenile form. But she does like wet tracks and she is down sharply in class from her last visit here. She has had a stable change and she looks very well placed here on her best form.

SARISARA was a most impressive winner first up and she is down in weights and much better drawn here. There is no reason she can't be in the finish at good odds.

TRAVESTON GIRL is a class galloper who has never won first up. But she hasn't had a trial and will be on the fresh side. The stable think she has a definite chance in this because of her class as a Group One placed horse.

SELECTIONS: NO6 MISS COVER GIRL, NO1 BRING ME THE MAID, NO12 SARISARA, NO2 TRAVESTON GIRL.
VALUE RUNNER: NO2 TRAVESTON GIRL.
Miss Cover Girl - 1pt @ 8.50
R6 3.00pm BRUCE LYNTON JAGUAR PRIME MINISTER'S CUP 1400m
WORTHY CAUSE tried very hard first up at the Sunshine Coast and should be fitter for this. He is a stakes winner in Melbourne and the stable make no secret of the fact they are headed back there in the spring.

SNIPPETS LAND has held his own in similar races in Sydney and the stable has a lethal strike rate in these sort of races in Queensland. He didn't have much luck when fourth at his last start and a repeat here would see him hard to beat. Has the bonus of the in-form Blake Shinn to ride.

HOPFGARTEN beat Worthy Cause last time and looked very good in doing it. He will be strong at the finish. The only worry is his failure in his only two attempts at this track. But he is a class galloper who looks well weighted as a multiple stakes winner.

LE VAL will be very big odds but forget his last start as he went around in the car park. His career has been dogged by injury but he does race well on this track and soft going will be no bar. His second up form is also very good.

SELECTIONS: NO2 WORTHY CAUSE, NO3 SNIPPETS LAND, NO1 HOPFGARTEN, NO11 LE VAL. VALUE RUNNER: NO11 LE VAL.
Worthy Cause - 1pt @ 4.20
R7 3.40pm ALL-NEW JAGUAR F-PACE A.D. HOLLINDALE STAKES 1800m
VOLKSTOK'N'BARRELL is a class galloper who has won at the very highest level. He looks perfectly placed here and should be able to get cover from his wide barrier. Forget his last start failure in the Doncaster Hcp because he didn't handle the track at all. He only arrived in Queensland on Sunday but has reportedly settled in very well. This race is usually a good guide to the Doomben Cup and he could easily complete the double.

SIR MOMENTS is the great hope for Queensland this winter. He ran second in this race last year before injury ended his winter. He has a very fast finish and provided the pace is on he can rattle off an 11-second 200m with ease. He just needs genuine pace.

LEEBAZ won this race last year and you should erase any memories of his last start failure in the Group One Queen Elizabeth Stakes. He is probably one step below the very best horses but is much better placed here. Won the Easter Cup in Melbourne at his previous start and that is a far better guide. He is capable of making it back-to-back wins in this race.

IT'S SOMEWHAT is in much the same boat as Leebaz. He won well in stakes company before failing in the Queen Elizabeth Stakes. This is much easier and he should get the run of the race.

SHAKEE'S SOLDIER is the interesting runner. He went from a benchmark horse to winning a Group One before then going off the boil. But he is now back in form with a good fourth in Group One race in New Zealand last start. He is the big watch in the race.

SELECTIONS: NO1 VOLKSTOK'N'BARRELL, NO5 SIR MOMENTS, NO4 LEEBAZ, NO7 IT'S SOMEWHAT.
VALUE RUNNER: NO12 SHAKEE'S SOLDIER.
VolkStok'N'Barrell - 1pt @ 17.00
R8 4.20pm ALL-NEW JAGUAR XF GOLD COAST GUINEAS QTIS Three-Years-Old Plate 1200m
SOLD FOR SONG is a fairytale having cost only $2500 but she shows enormous potential. Her last start second at 1000m was very good and the step up to 1200m will suit her. There is sure to be pace to burn in this race and that will suit her. She is being aimed at the Queensland Guineas but don't be shocked if she even starts in the Stradbroke.

PRIVLAKA was also very good when fourth at the Sunshine Coast in the same race as Sold For Song. He also has a lot of potential and a soft track will suit him. He is drawn perfectly in barrier three and has a top Coast jockey in Glen Colless.

TAKEDOWN has been racing in very good Sydney company. He is as tough as old boots and deserves a stakes win. He is another who is drawn to get the run of the race.

PERFECT DARE has always shown a lot of promise and was scratched last week for this race. He showed last start he has the pace to be handy early on and he can finish strongly.

BLUEBERRY HILL is a Group Two winner who showed a glimpse of her old form last start.

SELECTIONS: NO13 SOLD FOR SONG, NO5 PRIVLAKA, NO1 TAKEDOWN, NO8 PERFECT DARE.
VALUE RUNNER: NO12 BLUEBERRY HILL.
Sold for Song - 1pt @ 12.00