The QLD tracks are still quite hard to predict. Our QLD expert reveals what to look out for!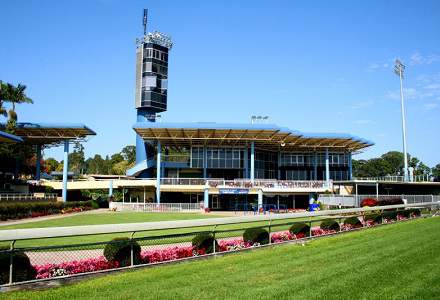 Plenty of rain in the past month in south east Queensland has made all tracks hard to predict. The track rating given on Saturday mornings for the past three meetings has obviously been wrong after watching the first few races. The Sunshine Coast is a good drying track but with the rail in its true position it can often suit horses coming down the middle of the track when it is on the soft side. The reason for that is there's a ridge in the centre of the track and it drains to both the inside and the outside meaning the middle is usually the place to be. But it is a big track with fair starts and horses can generally win from anywhere.

QUADDIES Races: 5-6-7-8

SKINNY QUADDIE: 1,6, 12/1,2/1/2,3,5,7,9.
WIDE QUADDIE: 1,2,4,6,7,12/1,2,4,9,10/1,2,4,5/1,2,3,5,9.
R1 12.07pm Benchmark 90 1000m
ESPIRITU is usually a good first up horse but she never got into the race in the Lightning Stakes three weeks ago. She usually goes well second up and this looks a suitable race for her.

THE MONSTAR has plenty of weight and hasn't won for a while. But he is honest and on his best form would beat these easily.

GOJO MIMO goes very well on this track and has a stack of pace. He showed he was up to good class with a fine run in Sydney earlier this year.

SARISARA has struggled since winning in Toowoomba four runs back. But this is more suitable than recent efforts.

TISANI TOMSO is resuming and usually goes well fresh, will be good odds and is reportedly working well.

SELECTIONS: NO4 ESPIRITU, NO1 THE MONSTAR, NO2 GOJO MIMO, NO6 SARISARA.
VALUE RUNNER: NO8 TISANI TOMSO.
Espiritu - 1pt @ 5.50
R2 12.42pm Fillies and Mares 1300m
GOLDEN MINESHAFT is down sharply in class here and she has won four and been placed three times from eight starts on this track. This looks the perfect race for her.

BANDA SPICE is taking on older mares here but she is another who loves this track. The race should be run to suit her.

MOON AND THE STARS is yet another who seems to race well here. She won a trial in style recently and provided there is pace here she will be running home hard.

STAR DROP has always shown ability and she was a good winner here two starts back.

NICKED AND COURT is hard to catch but on her day could win this without surprising. She got caught in the wrong part of the track at Ipswich on her last start and this race should be run to suit. She looks the value runner.

SELECTIONS: NO2 GOLDEN MINESHAFT, NO5 BANDA SPICE, NO3 MOON AND STARS, NO1 STAR DROP.
VALUE RUNNER: NO4 NICKED AND COURT.
Golden Mineshaft - 1pt @ 5.00
R3 1.20pm Benchmark 85 1600m
OUTRAGED has been very good at his two starts since a spell. He has trialled well in between those runs and should be ready to win here. He got a long way out of his ground last time and had no runner to take him into the race. The only worry here would be a wet track as he does not handle it. Provided it is reasonably dry he should be thereabouts.

SPUR LE JOUR was terrible last start at Eagle Farm. He did not stretch out at all but then again it was the same story with many horses on the day. He has won five races on this track and therefore it's no doubt this is his best surface. He has to be considered a main chance here.

MY QUILTER found the 1800m too far last time and is much better at 1600m. He is an open company winner and has a 3kgs claim here. The key to him is being able to lead by himself and dictate the tempo of the race.

TOP TONE was very good last campaign just getting beaten in a stakes race. He won a midweek race last start on a wet track and should be ready to step up to 1600m around this track.

ABU BEN ADAM will be the extreme outsider of the field but he has been building up gradually this campaign. He can race on the pace and likes the sting out of the ground which he should get here. Certainly worth throwing in multiples and worth a small each way bet.

SELECTIONS: NO4 OUTRAGED, NO7 SPUR LE JOUR, NO1 MY QUILTER, NO3 TOP TONE.
VALUE RUNNER: NO9 ABU BEN ADAM.
Outraged - 1pt @ 3.40
R4 1.57pm Bruce McLachlan Memorial 1200m
This race has been won by some very promising horses but there doesn't appear to be much depth this year.

RARE OCCURENCE is backing up from a very good second last week when she had to come from a mile back in the field. She has worked well again this week and seems to be over the problems which dogged her early in her career.

HAPPY EVENT was very good at her first run after a let up at Ipswich last start. She finished second in a race everyone thought she had won. The 3kgs claim for an in form Josh Oliver is a major plus.

SPOT THE DIFF has been honest throughout her short career but can't claim here which means she is tested at the weights. Some form guides show Luke Dittman claiming 1.5kgs on her but he came out of his apprenticeship on Wednesday and is now a senior rider.

BOLD SHOT trialled very well before his first start which he won in Rockhampton. This isn't hard and will be a chance with natural improvement.

NUNICUS was third in handy company at Doomben two starts back and then had little luck at her next start also at Doomben. This big track could suit and she is a value chance.

SELECTIONS: NO4 RARE OCCURRENCE, NO2 HAPPY EVENT, NO3 BOLD SHOT, NO1 SPOT THE DIFF.
VALUE RUNNER: NO11 NUNICUS.
Rare Occurence - 1pt @ 3.70
R5 2.37pm Group 3 Sunshine Coast Guineas 1600m
TIVACI has been solid on his Queensland starts and gets his chance to win here. But in a strange twist drawing barrier two may not be a great help. He is a horse who sometimes won't stretch out inside horses. But he has the top Sunshine Coast jockey Damian Browne who has an outstanding strike rate on the track. Browne will know exactly where to go with the horse to get maximum benefit.

HIGH SPIRIT was very good in the Queensland Guineas and this is much easier. He is a big gangly horse who is probably six months off being a top class galloper. But he should be in the finish here.

TIME TO TORQUE has been very honest of late and his win at Doomben last start was the mark of a good horse. If the track is genuinely wet he will be among the favourites.

SOLD FOR SONG is a class act and her win last start in the Daybreak Lover was full of merit. She will come from back in the field which is usually no problem on this track. Her only run this track was outstanding so she will be in the finish again. But the only worry is whether she is a genuine 1600m horse.

SHOTACROSS THE BOW is starting to wear very thin and he was only fair in the Daybreak Lover. However, his best ever run was on this track and he did look a bit above himself in condition last week - which is funny for a horse who was originally being set for a 2400m Derby. Give him one more go at odds.

SELECTIONS: NO1 TIVACI, NO6 HIGH SPIRIT, NO7 TIME FOR TORQUE, NO12 SOLD FOR SONG.
VALUE RUNNER: NO4 SHOTACROSS THE BOW.
Tivaci - 1pt @ 3.75
R6 3.17pm Listed Glasshouse Mountain Handicap 1400m
This race is now a Quality which means some hoses get in very well at the weights.

One of those is STRATUM STAR who had 61kgs even though he is a Group One winner of the Rupert Clarke Stakes at this distance. He still has to carry the big weight on a testing track but in a handicap he would have had 62.5 or even 63kgs.

MISCHIEVOUS DEVIL was very unlucky this track and distance in a Listed race in January. The track was too hard for him last start when fourth in the Rockhampton Newmarket. This should suit and he should race closer this time.

SACRED STAR is a Group One winner in New Zealand and doesn't look harshly treated here. His run in the Group One Stradbroke was very good and probably should have finished closer. The stable thinks he has found his right grade now at this stage of his career.

STEEL ZIP is an old grey beard who was good first up at Ipswich. The question is 1400m at this stage of his campaign. But if the pace is on he will be motoring home.

FLAMBOYER won a restricted race at Eagle Farm last start. He likes to lead and if the track is genuinely soft he will give them something to catch here. He was rather short in some early markets but is likely to drift here.

SELECTIONS: NO1 STRATUM STAR, NO10 MISCHIEVOUS DEVIL, NO2 SCARED STAR, NO4 STEEL ZIP.
VALUE RUNNER: NO9 FLAMBOYER.
Stratum Star - 1pt @ 4.00
R7 3.57pm Listed Caloundra Cup 2400m
MAURUS is a very good stayer and the handicapper hasn't caught up with him just yet. He is a big strong horse who should handle the 59kgs and Caloundra 's wide open spaces will suit him. There is a worry that he hasn't had a lot of racing for a 2400m race but he looks too good on what we have seen in his three Queensland runs.

INDEX LINKED won this race last year and was a last start winner in Tatts Cup. He has 60kgs here which is no help on this tough track but he does have a few lengths on most of these in ability.

JUMBO PRINCE is honest and drops in weight on his second in the Ipswich Cup. One of his best runs was when he was placed in the Queensland Derby at 2200m when it was run at Doomben and the 2400m should not worry him.

INSTRUMENTALIST is starting to find form after getting down in the weights. He was good in the Ipswich Cup without ever looking the winner. He is another suited at 2400m around this big track where he is trained.

AMEXED won his first race in over two years last start. But he also was good in the Queensland Derby at 2400m as a three year old and he is a stakes winner. If he can just make another step forward he will be around the money.

SELECTIONS: NO2 MAURUS, NO1 INDEX LINKED, NO4 JUMBO PRINCE, NO5 INSTRUMENTALIST.
VALUE RUNNER: NO9 AMEXED.
Maurus - 1pt @ 1.75
R8 4.33pm Three-Years-Old Handicap 1300m
Ordinary race to finish the day but GREGORY was good last week when a fast finishing fourth at Eagle Farm. He has only had three race starts and should be improved for his latest effort. The Sunshine Coast should suit him.

TARZAN has a few problems especially in the head department but he didn't have much luck last start. He looks well suited on his home track.

EXCELLENT SPIRIT has been good in weaker races of late. He faces a test here but he can race on the pace and handles all type of tracks conditions.

ARTHUR LE ROI has always shown plenty of potential and a handy last start winner. He can be in the finish here with just a bit of luck. MONACO PLAYBOY has been a tease for most of his career but on his day he can be in the finish. He has a 3kgs claim which will be a very big help and he is trained on this track.

CASHING UP would normally be among the tips but the big weight might catch him out here. But if you are going wide in multiples he would be a must.

SELECTIONS: NO9 GREGORY, NO5 TARZAN, NO3 EXCELLENT SPIRIT, NO2 ARTHUR LE ROI.
VALUE RUNNER: NO7 MONACO PLAYBOY.
Gregory - 1pt @ 6.50