Tom Gilmore's best bets for Geelong and Cessnock today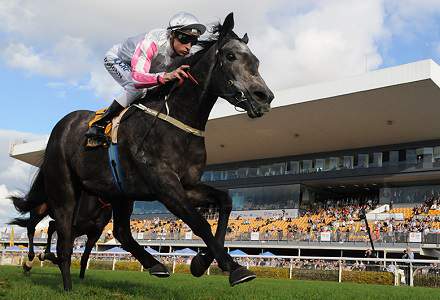 Geelong R1 No.6 - WALL STREET WOLF (x2 NAP)
Really talented horse who went super on debut in town at Flemington down the straight (had little luck), prior to that had trialled the house down at Flemington and gave every indication he'd turn into a pretty serious racehorse. He got himself into a fizz pre-race at Flemington and pulled up with a fairly average recovery rate, so the effort itself under the circumstances was enormous. He'll just be too good for this lot.
Wall Street Wolf - 2pts @ 1.24
Geelong R2 No.6 - LAKERS LASS
Thought this mare trialled nicely at Pakenham on the pro-ride (23/6 over 1000m), rolled forward from an inside alley and offered a strong kick when asked for an effort to do it easily. They ran good time for the morning and reckon she had more in hand. Wide marble shouldn't be an issue as fancy she'll cross early, if she can find the front and control the middle stages of the race, she'll take catching.
Lakers Lass - 1pt @ 6.00
Geelong R5 No.2 - RUNSON
His win fresh at Pakenham on the pro-ride 5 weeks ago was scintillating, and in very good time. Then went to town (down the straight at Flemington) and went even/ok, had excuses as he pulled up poorly post-race. Like that he gets back onto the synthetic and drops in grade, he's well weighted and should be suited in the small field. Can take a sit tracking the leaders and look to be the one home over the top - has a serious final 200m split.
Runson - 1pt @ 2.00
Geelong R8 No.6 - BARMAID FROM WYE
Finally broke through at her latest outing her ten days ago over the 1300m, took plenty of the straight to wind-up and catch the leader but eventually did so. Think she can make the progression from Maiden grade to winning this average BM58. Like that she's drawn out as D.Moor will no doubt look to be positive early, if she can take a sit at the leaders girth she might prove very hard to beat.
Barmaid from Wye - 1pt @ 4.00
Cessnock R1 No.1 - WING SNIPPER
Not sure what kind of price we'll get here but anything around the $2 mark and thats good enough for me, showed plenty of debut back in December of last year at Gosford when going down 1.3 lengths to Roeinda (that horse has since been a genuine Stakes performer). Then had issues/excuses second-up on a soft track, fairly forgiving of that as it appears she was over the top. No trial/jump-outs to assess, but a rating anywhere near that debut has her winning this quite comfortably. She'll measure up mid-week in town.
Wing Snipper - 1pt @ 1.70