The Rail is out 3m the entire circuit and the track is in the Soft range, but may be a Good 4 come race day.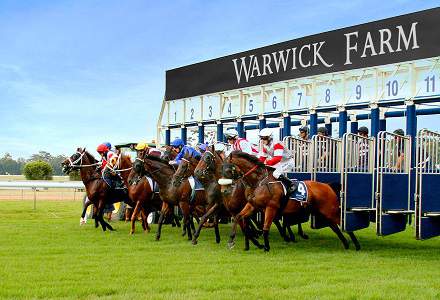 The Rail is out 3m the entire circuit and the track is in the Soft range, but may be a Good 4 come race day. Quaddie Races – 4,5,6,7 Skinny Play: 4,6 – 5,6 – 3,5,9 - 13 Wide Play: 2,4,5,6 – 2,5,6,7 – 2,3,5,9 – 4,5,8,13
Race 1 1:15pm MYBOYCHARLIE @ VINERY HANDICAP 1400m
THORN IN MY SIDE is well bred and has trialled well leading in. Heys is quite good at placing his horses and can start his career with a win. BETTER BE GOOD comes out of a good race last start where the form has stacked up quite well and he should be hard to beat. ECHO QUEEN gets a chance to break through here. Ideally she would want it softer but should be thereabouts. KOKOPU was good enough first up and has a chance to break through here. SELECTIONS: No 2 THORN IN MY SIDE, No 3 Better Be Good, No 5 Echo Queen, No 9 Kokopu
Thorn In My Side - 1pt @ 9.0
Race 2 1:45pm TAB MORE THAN JUST WINNING HANDICAP 2400m
MAJOR MAJOR was a dominant winner last start in a stronger race and no reason to see why he can't win again here. LIE DIRECT comes out of the same race as Major Major last start and gets a 1kg weight swing in his favour and has to be given a chance. HOT MUSTARD should enjoy the step up to 2400 here. He has been running well over 2200 recently and gets another chance. HALFWAY TO HEAVEN won well when he had all go in his favour last start. This is tougher and he will need to step up. SELECTIONS: No 1 MAJOR MAJOR, No 3 Lie Direct, No 4 Hot Mustard, No 2 Halfway To Heaven
Major Major - 1pt @ 2.6
Race 3 2:15pm SCHWEPPES HANDICAP 1100m
OVERSTEP had a massive spruik on him in debut and was rolled at $1.50. He has since gone to the Waller yard and has trialled fantastically leading into this. CALANDA has trialled quite well leading into this. Snowdens have been on fire with their 2yos this season and he has to be respected here. PRECAUTIONS debuts on her home track here and has trialled well leading in. FARSON gets blinkers for his debut run and has trialled well enough for this. SELECTIONS: No 7 OVERSTEP, No 2 Calanda, No 8 Precautions, No 3 Farson
Overstep - 1pt @ 5.5
Race 4 2:45pm TAB.COM.AU HANDICAP 1400m
WUTAI MOUNTAIN won well upon resumption and looks to have furnished well this preparation. I cannot find a reason why she can't go on with it here. SPEED PRINCESS won her maiden well last start and looks to take up the speed here. She gets blinkers for the first time and must be given a chance. BANNATYNE trialled well between runs and presents second up here. Waller horses do seem to springboard off that trial between runs and she must be respected. ROSETTAS WHEY drops well in grade from a good race last start. Previous to that she was a strong winner at Beaumont. SELECTIONS: No 4 WUTAI MOUNTAIN, No 6 Speed Princess, No 5 Bannatyne, No 2 Rosettas Way
Wutai Mountain - 1pt @ 9.5
Race 5 3:15pm #THERACES HANDICAP 1600m
CINEMA PARADISO comes out of a nice race at Kembla last start and previous to that was a strong winner. Collett is 2/2 aboard this filly and seems to have the key to her. BETTABET RED was good at Grafton in a stronger race last start. She was carted well off the track around the turn and did well to finish off. Is well in after the claim for Heywood here. AURORA GLOW needed a win and got a win last start. She has always had more than average ability and hopefully she can go on with it here. BOLD BEGINNING has been running well this preparation without winning and she gets a chance to break through. SELECTIONS: No 5 CINEMA PARADISO, No 6 Bettabet Red, No 2 Aurora Glow, No 7 Bold Beginning.
Cinema Paradiso - 1pt @ 8.5
Race 6 3:45pm PRO-RIDE HANDICAP 1600m
READY ALREADY was dominant last start over 1400 and gets out to the mile here. That should pose no issues for him at all and if he is given an easy enough time in front, they won't run him down. PRESCIENCE looks as if he needed the mile last start and he gets out to it here. He may need a bigger track than Warwick Farm, but gets Avdulla, who should get stuck into him when he needs to get going. HOGMANAY out to the mile suits. She got too far back in a race that didn't suit last start and this one looks much more suitable. KANJI should improve second up here and has done so before, off previous flat first up runs. He has a big weight to carry but gets Angland, who is a well renowned heavyweight rider and shouldn't have to carry too much dead weight. SELECTIONS: No 5 READY ALREADY, No 9 Prescience, No 3 Hogmanay, No 2 Kanji
Ready Already - 1pt @ 5.0
Race 7 4:15pm TAB REWARDS HANDICAP 1100m
PERIZADA was dominant at the Sapphire Coast last start. She looks to be back at her best after disappointing last time. She has more than enough ability to win this race here and gets a good weight drop for her last start win. DIAMOND FEVER comes out of a good race last start and presents well second up. She is a winner second up in a previous preparation and should be included here. LOT THREE FOUR ONE comes out of that same race last start and hit the line quite well. Ideally she would want it a touch wetter but on her home track she has to be given a chance. ROSE OF MAN fresh here looks well set up. She ran in some strong races last preparation. She is well in the weights after the claim. SELECTIONS: No 13 PERIZADA, No 8 Diamond Fever, No 5 Lot Three Four One, No 4 Rose Of Man
Perizada - 1pt @ 8.5