Some horses just haven't handled the camber and the soft tracks at Eagle Farm since it resumed from a two years shut down.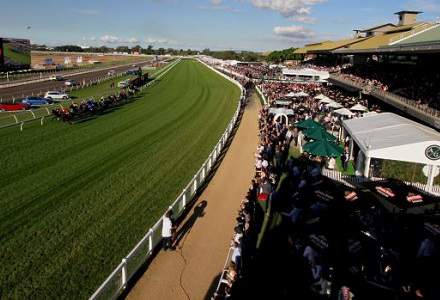 Back to Eagle Farm with the rail out nine metres on what should be a good racing surface for the first time in five meetings at the new track. Some horses just haven't handled the camber and the soft tracks at Eagle Farm since it resumed from a two years shut down. So basically take it easily for the first few races.

QUADDIES Races: 5-6-7-8

WIDE QUADDIE 2-4-5-6-9/2-3-5-7/1-6-8/1-2-4-5-11

SKINNY QUADDIE 2-4-5-9/2-3-5-7/1-8/1-5
R1 12.50pm Maiden Plate 2200m
Ordinary affair to start the day but DUKE OF CHRISTOPHE will win this or finish his career a maiden. He is suited by the Plate conditions and it is a weak field.

ARRABIATO charged up to win at the 250m last start and stopped to be well beaten. He did make a long run and will be fitter.

GOTTA GOODIE battled away last start without looking a winner and the 2200m suits.

ST JAMES SQUARE has been okay in this type of race lately.

PIPPOS can work like Octagonal but races like a camel. One day he will put it together in a race and win at big odds.

SELECTIONS: NO8 DUKE OF CHRISTOPHE, NO1 ARRABIATO, NO9 GOTTA GOODIE, NO7 ST JAMES SQUARE.

VALUE RUNNER: NO10 PIPPOS.
DUKE OF CHRISTOPHE - 1pt @ 1.9
R2 1.20pm Fillies and Mares Class 4 1200m
ABRADACASH is showing the form that had her earmarked as a future black type horse at one stage. These small fields can be tricky but she looks the winner.

ROXY RHYTHM has been honest this campaign and looks the main danger.

KOLONGA was a good winner last start and is a chance again although would prefer on a soft track.

FAICONI has a 3kgs claim here which gives her a real chance.

SELECTIONS: NO2 ABRADACASH, NO4 ROXY RHYTHM, NO5 KOLONGA, NO1 FAICONI.

VALUE RUNNER: NO1 FAICONI.
ABRADACASH - 1pt @ 1.8
R3 1.53pm Colts, Geldings and Entires Class 4 1200m
A small field but all have some claims and it is a very tricky race.

ROUGH EDDIE has been racing very well and the 3kgs claim puts him back in contention here.

FORTINI is building up to a win and also has a claim. He had a setback recently but has worked okay since.

HI I'M BACK is always about the place and will just want a touch of luck.

MY COUSIN BOSSY was scratched last week and hasn't started for two months, but is handy.

At the risk of tipping five horses in a small field TRY N CATCH ME was very good last start in better company although that was on a wet track.

SELECTIONS: NO1 ROUGH EDDIE, NO2 FORTINI, NO3 HI I'M BACK, NO4 MY COUSIN BOSSY.

VALUE RUNNER: NO6 TRY N CATCH ME.
ROUGH EDDIE - 1pt @ 3.5
R4 2.23pm Maiden Handicap 1200m
STRATUZY is no star but is never far away in these maidens. Looks drawn to get the run of the race.

BO BO HORSE was very strong at the finish last start and the big straight here should suit.

TICKLED PINK is a former Sydney horse who was good last start at the Sunshine Coast. Gets a chance to win here.

SHEZA YANKEE and ALTERED are two-year-olds taking on older horses. ALTERED has trialled okay and SHEZA YANKEE has had a jump out.

SELECTIONS: NO4 STRATUZY, NO1 BO BO HORSE, NO6 TICKLED PINK, NO9 SHEZA YANKEE.

VALUE RUNNER: NO3 ALTERED.
STRATUZY - 1pt @ 2.7
R5 2.53pm Three-Years-Old Maiden 1200m
A lot of pace in this race so looking for a bit of value and one that will run on.

ROCK OF DESTINY was very good after missing the start at first race and then only fair next time. But the big track here should suit and should be running home hard.

TEEROY'S TRIBUTE has been racing well in Toowoomba and should also be suited on a bigger track.

THE INFLAMER has had four trials and been placed in three. Reportedly has some ability.

CARRANGALL fought on bravely when second last start. He is one who should be on the pace the whole way.

DAM BUSTER is a first starter but had a nice trial recently and the stable is noted for first up winners.

BO BO HORSE is a dual acceptor and will be a chance in whatever race he contests.

SELECTIONS: NO9 ROCK OF DESTINY, NO5 TEEROY'S TRIBUTE, NO6 THE INFLAMER, NO2 CARRANGALL.

VALUE RUNNER: NO4 DAM BUSTER.
ROCK OF DESTINY - 1pt @ 14.00
MOONLIGHT DANCER has been very honest this campaign and she races like 1500m will suit.

BRACTEATE didn't seem to stretch out on the wet track last start and will go better here. First run this area was very good.

OLD SMOKEY is hard to catch but the key to him is a fast early pace and he should get that here.

RISING LUCK has his share of ability and at third run back from a break should be thereabouts.

TOPENDING couldn't go a metre in the conditions last start and he is much better placed on a drier track and at this distance.

SELECTIONS: NO7 MOONLIGHT DANCER, NO3 BRACTEATE, NO5 OLD SMOKEY, NO2 RISING LUCK.

VALUE RUNNER: NO8 TOPENDING.
MOONLIGHT DANCER - 1pt @ 5.5
R7 3.53pm Class 2 Handicap 1400m
Interesting race because there are several impressive last start maiden winners here, but went with one that won a Class 2 at his last start in

AIR FORCE ONE. He has been building up to form and should be even fitter now. FLAMBE was a good Class 1 winner at the Gold Coast last time. She is a promising type.

DAME VAN WINKLE fell in to win a maiden last start and the runner up has since been beaten again in a maiden. But the stable has a bit of an opinion of her.

IRISH BANDIT is a beautifully bred horse and finally won a maiden last time. Has some claims here.

LIEDER is a former Sydney horse and his only win was at 1600m. But he did trial okay recently and might go well fresh.

SELECTIONS: NO1 AIR FORCE ONE, NO8 FLAMBE, NO6 DAME VAN WINKLE, NO3 IRISH BANDIT.

VALUE RUNNER: NO2 LIEDER.
AIR FORCE ONE - 1pt @ 8.5
R8 4.23pm Class 3 Handicap 1600m
GOTHIC MIGHT had to lead last start but fought on very well. He might get some cover here and would be hard to beat.

MEDIEVAL has been racing well enough to trouble this field. PLANET AMERICA had no luck at all last start and should be ready to get back into the money here.

CHEVAL LE VENT has been most impressive in recent wins and this isn't overly hard.

ON DEMAND has been about the place lately and usually is a worth each way thoughts in this type of race. BRACTEATE is a dual acceptor and obviously a chance in either race he contests.

SELECTIONS: NO5 GOTHIC MIGHT, NO9 MEDIEVAL, NO2 PLANET AMERICA, NO4 CHEVAL LE VENT.

VALUE RUNNER: NO11 ON DEMAND.
GOTHIC MIGHT - 1pt @ 3.5