This is the fourth meeting hosted by the Sunshine Coast in the past 10 days.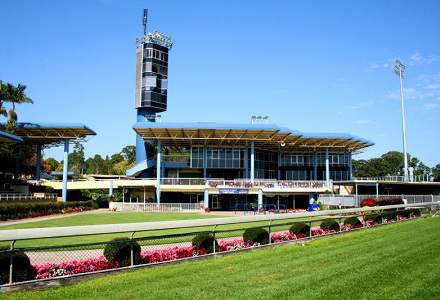 It is lucky that the Sunshine Coast is a big track because this will be the fourth meeting it has held in the past 10 days, with more to come. The rail is out two metres most of the track, which again means horses on the crown in the centre of the track will benefit.

QUADDIES (Races: 5-6-7-8)

WIDE QUADDIE 3,4,6,7,11/1,3,7,9/10,12/1,3,5,10
SKINNY QUADDIE 3,4,6,7,11/1,3,9/10/5

BEST BET: SOLAR BURST
NEXT BEST BET: OBERLAND
BEST ROUGHIE: HONOUR'N'STRENGTH
R1 1.20pm Sky Racing Class 6 Plate 1000m
MEET GEORGE JETSON has been racing very well this track when ridden in behind the pace, but he led at Eagle Farm last start and stopped. There is a lot of pace in this small field so should be able to take a sit.

TIBROGARGAN MISS is very fast and led top mare Hidden Pearl last start when unplaced at Eagle Farm. This is far easier and provided she's left alone in front, will be hard to run down.

ALPEN ROSE has never won first-up but has been placed three times when fresh. Reportedly had a solid jump out recently.

URBAN KNIGHT is another who goes very fast but the final 100m will be a worry.

SELECTIONS: NO2 MEET GEORGE JETSON, N07 TIBROGARGAN MISS, NO5 ALPEN ROSE, NO1 URBAN KNIGHT
VALUE RUNNER: NO5 ALPEN ROSE
Meet George Jetson - 1pt @ 0.00
R2 1.53pm Sky Thoroughbred Central Maiden Handicap 1600m
A fairly handy maiden with a lot of non-winners who can find a way to get beaten, so be careful.

CONCA DEL SOGNO was beaten out of the place as a short-priced favourite last start. However, he didn't have much luck and this bigger track will suit.

GOLDEN FUTURE worked home well when fourth over 1350m at Doomben last start and is another suited on this bigger track.

EIGHT VERSES has been racing well without winning. This is a bit harder than last start when second this track but has claims.

LIGHTNING ROCK probably should have won at Ipswich last start when second at this trip. This should suit and will be good odds.

SELECTIONS: NO2 CONCA DEL SOGNO, NO3 GOLDEN FUTURE, NO6 EIGHT VERSES, NO10 LIGHTNING ROCK
VALUE RUNNER: NO10 LIGHTNING ROCK
Conca Del Sogno - 1pt @ 0.00
R3 2.23pm @Skyracingau Maiden Plate 1200m
This should be a good betting race with plenty of chances. PUREST is nearing a win and although barrier two may not be ideal looks hard to beat.

MIA MAGIC was good first-up and has a 3kgs claim and a good barrier here. She usually improves with racing.

STELLAR KNIGHT has been good at both starts this campaign. This is harder but can be in the finish with any luck.

MY BOY FRED is having his first race start but has had three trials and he was an impressive winner at the latest.

OPINIONATED has been placed six of 12 starts and often in better company than this. But she will be value now because most have given up on her ever winning. This is the type of race where she could surprise.

SELECTIONS: NO15 PUREST, NO13 MIA MAGIC, NO10 STELLAR KNIGHT, NO7 MY BOY FRED.
VALUE RUNNER: NO14 OPINIONATED.
Purest - 1pt @ 0.00
R4 2.53pm #Skyharness Class 1 Handicap 1400m
GENERAL WIND had four trials before first-up win at Doomben. He should be fit enough to race well here at the 1400m.

ONE MANSINI was strong to the line when second last start at Doomben and is another who will appreciate this track.

SHELTER LADY has been racing most consistently and while this is a bit tougher than recent races she will be in the finish.

TOP PEAK has been racing very well and looks nicely placed at the weights. WICKED TRILOGY has been looking for this distance and she does race well on this track. She looks the value hope.

SELECTIONS: NO1 GENERAL WIND, NO3 ONE MANSINI, NO6 SHELTER LADY, NO7 TOP PEAK.
VALUE RUNNER: NO8 WICKED TRILOGY.
General Wind - 1pt @ 0.00
R5 3.23pm Skyracing.com.au Qtis Three-Years-Old Maiden Plate 1200m
HEART OF AUSTRALIA looks well placed in this despite having a tricky barrier. Battled away very well at first race start and better suited this trip and track. She has the top jockey here and suited under the Plate conditions.

KUBIS is resuming here but wasn't far off a future Group One winner in Sacred Elixir at his last start. Has had a jump out and looks hard to beat.

PAR ONERI only has to live up to his early form as a two-year-old to be a chance. He raced well in some good metropolitan class races before a spell and has been placed first-up so respect here.

RAHDANE trialled very well before two good seconds from only two starts. Has a top jockey in Damian Browne here and will be on the pace.

HONOUR'N'STRENGTH (Best Roughie) was big odds at only start but really caught the eye late in the race when fourth. This bigger track suits and looks the best roughie all day.

SELECTIONS: NO11 HEART OF AUSTRALIA, NO4 KUBIS, NO6 PAR ONERI, NO 7 RAHDANE.
VALUE RUNNER: NO3 HONOUR'N'STRENGTH.
Heart of Australia - 1pt @ 0.00
R6 3.53pm Sky Racing Replays Class 1 Handicap 1000m
Not the strongest Class 1 ever run at the Sunshine Coast.

ADERITO gets his chance to win another race. His form is solid without being great but should get the run of the race.

OTTO FROM HAMBURG isn't very big but he has a large heart. Always tries and not without claims at first run for several months and has won first-up previously.

CHILDHOOD SECRET won a weak maiden last start but he does have a claim and is not without a hope.

LIPSYNC is a class act and will be favourite if she runs. At the time of writing there was a doubt about her starting. But if she starts she is the one to beat.

POMPEII FLYER has won only one race but is usually about the place. Looks one at big odds with a hope.

SELECTIONS: NO3 ADERITO, NO1 OTTO FROM HAMBURG, NO7 CHILDHOOD SECRET, NO9 LIPSYNC.
VALUE RUNNER: NO8 POMPEII FLYER.
Aderito - 1pt @ 0.00
R7 4.23pm Sky Racing.com.au Class 3 Plate 1600m
SOLAR BURST (Best Bet) lived up to her good trial form with a first-to-last-win at Doomben. She is much better suited here and is very well placed in the race under Plate conditions.

STELLA DI NOTTE has been racing in far harder company than this. She is another well placed under Plate conditions.

GOULDIAN finished strongly last start and although he has a big weight, he is yet another who isn't bad off under the Plate scale.

EIGHT BELOW will find this harder than his last start win but isn't without claims.

TRALEE CHORUS has solid Victorian form and has a claim here. She looks the value hope.

SELECTIONS: NO10 SOLAR BURST, NO12 STELLA DI NOTTE, NO3 GOULDIAN, NO7 EIGHT BELOW.
VALUE RUNNER: NO11 TRALEE CHORUS.
Solar Burst - 1pt @ 0.00
R8 5pm Sky Racing Replays Class 4 Handicap 1200m
OBERLAND (Next best bet) gets his chance at another win here after being scratched from Doomben last Saturday. He has Damian Browne riding which is worth four lengths on this track and has been racing against much better horses.

THREE BEERS PLEASE was another scratched last Saturday and bobs up now and again in this type of race.

COLINELLE is a promising horse who is suited to this big track. But whether he might want 1400m now is the question. Failed at that distance last start but it was in the bog at Eagle Farm and far better here.

ROSELLA has had her share of injury problems but once looked like being a stakes horse. She should be at peak fitness now and it wouldn't shock if she won.

SELECTIONS: NO5 OBERLAND, NO3 THREE BEERS PLEASE, NO1 COLINELLE, NO10 ROSELLA.
VALUE RUNNER: NO10 ROSELLA.
Oberland - 1pt @ 0.00