Tom Gilmore's best bets for Bendigo and Wyong today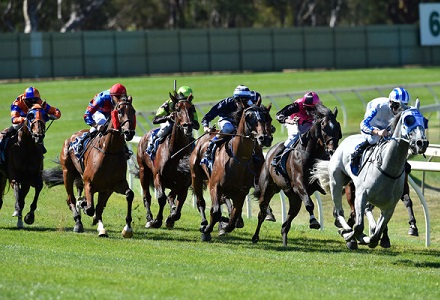 Bendigo Quaddie:

Leg 1 - 2, 4, 5, 10
Leg 2 - 2, 3, 6
Leg 3 - 2, 3, 5, 7, 8, 9
Leg 4 - 2, 6, 13

$100 = 40%
Next Best: Bendigo R2 No.6 - IN CONTEMPT
Went nicely on debut ten days ago over the 1000m at Echuca, drew the carpark but showed good early speed (after being half-a-step slow away) to race on-speed 3-4 deep throughout (awful ride). Winner was to her inside when she should have crossed, her effort to still run through the line and put a space on the rest though was impressive. Takes good benefit from the outing and probably looks better suited to 1100m. Gets a big jockey change with D.Lane going on and the heavy track won't be an issue. Should find the front from the inside marble (pattern suits) and take beating!
In Contempt - 1pt @ 2.60
Bendigo R4 No.10 - AMERISTRALIA
Was first-up after 4 months off the track at Bendigo three weeks ago and won stylishly over the 1100m, was posted wide throughout and continued to run through the line (albeit in 'A' ground) to score over a smart one. They ran good time relative to the day and think she'll only be improved for the day out and like the stick at the 1100m. Tempo looks genuine and if pattern allows them to make ground she'll be charging home late. The wetter the better for her.
Ameristralia - 1pt @ 2.15
Bendigo R5 No.5 - RUA KANAPU
Really liked his first crack at the 2000m at Mildura two weeks ago, settled nicely in the run and appeared to be under pressure a long way from home but really rallied to run through the line to win well. Appears if anything he looks further suited out to the 2200m and its interesting to note the blinkers are applied (could find another length or two?). He certainly looks the most progressive of what is a fairly average lot, if he's again come on he rates to win this.
Rua Kanapu - 1pt @ 3.50
Best Bet: Wyong R1 No.10 - PIRAPALA
Nice filly who trialled like a bomb 15/8 at Rosehill over 900m, was put in a headlock and dragged right back to last in the big field, appeared to settle well under restraint. Then once they began to round the bend Avdulla asked her to extend, she picked up in a matter of strides and showed an electric turn of foot doing so. Was eased down in the end to win the trial by 2.5 lengths (runner-up has since come out and won fresh!). Think she's a smart filly and will be just too good for this lot.
Pirapala - 1pt @ 1.85
Roughie: Wyong R6 No.10 - LA MUSE
Improved significantly second-up at Canterbury two weeks ago when ridden dead-cold, she made enormous ground late against the pattern and gave every indication she'd go close to peaking third-up/1350m. Speed on paper looks ok and think as the day wears on we may see them getting off the fence (she's drawn out which suits!). If she can find a tow into the race, she can run a terrific final 400m split and possibly be the one coming home over the top of them late. Comes up good overs.
La Muse - 1pt @ 12.00