Tom Gilmore's best bets for Geelong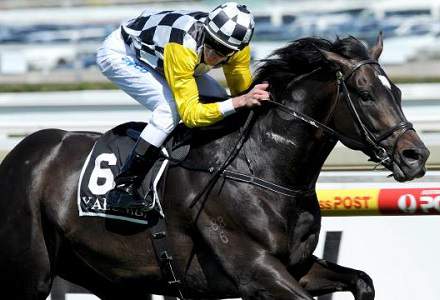 Geelong Quaddie:

Leg 1 - 4, 6, 9
Leg 2 - 3, 4, 9, 11
Leg 3 - 3, 6, 8, 9, 10
Leg 4 - 5, 7, 9, 11

$100 = 40%
Geelong R1 No.7 - MISSILE BOOM
He's now had the two runs on the turf since a terrific debut at Pakenham (synthetic) a month ago, latest effort over the 1300m at Cranbourne just over a week ago was good. Closed terrifically against the pattern of the day/race (1st/3rd were both leading throughout) and gave every indication that he'd appreciate the progression to 1400m. Looked to again improve for the day out and should find this a fairly winnable race, rates to win it.
Missile Boom - 1pt @ 5.00
Best Bet: Geelong R2 No.10 - STATELY BOY
Went nicely in good race in town at latest outing (1400m), should have arguably tested the winner if it weren't for interference when looking to improve in the straight. Drops significantly in grade and does look to get the absolute PR on the map, form out of that Flemington race has stood up, too. Odeon (2nd) and Casta (6th) have both been dominant winners since. If he runs to his mark in that event he should simply win and not overly worried by the 5 weeks between runs.
Stately Boy - 1pt @ 2.50
Next Best: Geelong R3 No.3 - FATAAWY
Thought she trialled up very nicely on a bottomless deck at Tatura three weeks ago (1000m), jumped nicely but was snagged in order to settle, she found her feet mid-trial and when given her head just eased into the heat like a smart filly. She scouted wide (four-deep) throughout and came to the outside fence upon straightening, wasn't knocked about in any way, shape, or form but did run through the line with some authority. She finds a terrific race to kick off in and might be worth following up in trip!
Fataawy - 1pt @ 3.30
Geelong R6 No.6 - HE'S THE BOSS
Win was very good at Sale over the 1400m on debut off the back of an impressive trial, that victory had plenty of merit as he positioned up in a terrible spot in running and really only found daylight late to run through the line exceptionally. The run itself was v. good considering he was green throughout (fierce through the midrace) and only did his best work over the final 100m when flattening out. Takes great benefit from the day out and if anything better suited stepping to 1500m. Think he's worth following.
He's The Boss - 1pt @ 3.50
Roughie: Geelong R9 No.9 - SAINT VALOREM
Return to racing four weeks ago at Sandown in what was a very slick race (rated!) was pleasing, gave a significant start to the leaders, including eventual winner Hellbent (genuine Group-horse/well supported subsequent G3 level). The run was certainly against the pattern of the day were most found it difficult to bridge any gap on the leaders so the effort has merit. Clearly takes good benefit physically from the run and think he's now looking for the 1100m. Draws out which will no doubt suit later in the card and think the tempo should suit. He'll give us a sight!
Judges - 1pt @ 15.00