Tom Gilmore's best bets at Geelong today.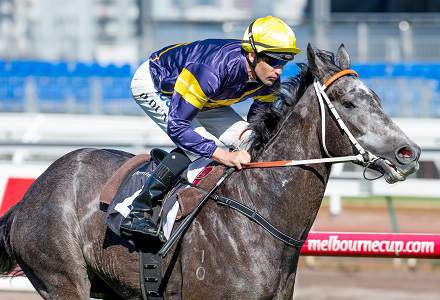 Geelong Quaddie:

Leg 1 - 3, 4, 7, 8
Leg 2 - 1, 3, 5, 7
Leg 3 - 1, 2, 3, 6, 13
Leg 4 - 1, 9, 10

$100 = 40%
Best Bet: Geelong R1 No.4 - SAVVY BANDIT
Thought he went well on debut at Cranbourne over a mile when it seemed as though the 1600m was too sharp for him, he looks a genuine out-and-out stayer this fella with the step to 2000m suiting him down to the ground. Usually not a big wrap for turf to pro-ride and vice versa but he didn't really appear to enjoy the shifting surface at Cranbourne. Reckon he'll find 2-3 lengths on the poly and does get major jockey upgrade/find PR on the map, needs to win this if he's going on to better things.
Savvy Bandit - 1pt @ 1.85
Geelong R4 No.1 - ANNRHON
One last chance for this mare (who has talent!), latest they went back (again) off average tempo here two weeks ago and she again hit the line well, think they'll look to be far more aggressive from the friendly marble, if she can settle within 3 pairs of the leader she should be able to produce a final 400m split (can be slick) that'll allow her to be strong home over the top. She's much better than maiden grade but just needs to be ridden correctly, winner of latest hit-out had been G3 competitive and also form around Merriest (winner Sat Moonee Valley).
Annrhon - 1pt @ 4.60
Next Best: Geelong R5 No.4 - KING OF THE ARK
Won in dominant fashion over the Group-performed Lionhearted here two weeks ago over the 1000m, did a bit wrong and looked to have improvement to come physically yet he really won with a leg in the air. Ran quicker time than Invincible Joy (in the market here) on that occasion and suggest he's got plenty of upside, should find a lovely spot tracking the leaders from the inside marble and with natural improvement can again find the winners circle. Like they stick at the 1000m!
King of the Ark - 1pt @ 4.20
Geelong R6 No.1 - SNITZELWOOD
Like seeing him back on the pro-ride at Geelong (where he's produced his peak ratings), efforts in brief stint in SA were good considering im not sure he thrives on soft tracks, latest he boxed on well behind Ferro Nero (Flemington winner) and did have pattern against on that occasion. Looks to map/find the front fairly comfortably here this afternoon and if C.Parish turns it into a genuine test he can pinch a break on them at the 600m and be too much to run down.
Snitzelwood - 1pt @ 3.60
Roughie: Geelong R7 No.3 - TIGIDIG TIGIDIG
Has been ridden a touch upside-down in two resuming runs to date (both been pro-ride), suggest latest outing over 1000m he went better than what it reads with the city-class Runson just doing a number on them in slick time. Expect him to take a much more forward position from the wide draw and third-up/back to 1200m he'll be close to his peak. His best rates well enough to win this (form around Magicus/Lord Barrington last prep). Just need the right luck in running.
Tigidig Tigidig - 1pt @ 6.00