Tom Gilmore's best bets for Geelong and Newcastle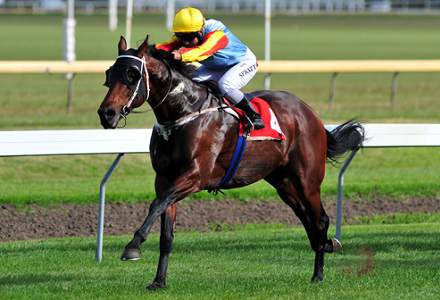 Geelong Quaddie:

Leg 1 - 1, 4, 5
Leg 2 - 1, 2, 3, 9, 10
Leg 3 - 2, 3, 4, 5, 7
Leg 4 - 3, 4, 11

$100 = 40%
Geelong R3 No.9 - ELEONORA
Talented kiwi filly making her Australian debut, was good enough to finish on the heels of a smart one in her initial preparation back in New Zealand earlier this year when jumping 1200m to 1600m, that race rated well on the day and produced an overall number that certainly is good enough to see her win this. Thought her run fresh at Hastings three weeks ago over the six furlongs was sound and expect her to take good benefit and be a bit sharp for this lot, has upside!
Eleonora - 1pt @ 1.75
Next Best: Geelong R4 No.4 - SAN VINCENZO
Thought he went enormously when on debut at Sandown over the 1400m three weeks ago, made all the running mid-race (solid tempo) and just tired late when nabbed by the city/stakes class Champagne Ready (went 3 lengths quicker overall than BM64 later in the day). Considering he kicked off at the 1400m he'll take plenty of benefit physically from the run, and if anything in a race that lacks speed a drop to 1300m should suit. Off that debut rating he can find the lead/fence quite easily and with pattern suiting he'll be a handful to catch.
San Vincenzo - 1pt @ 3.20
Pakenham R5 No.1 - EQUIETTO
Went super on an unsuitable bog track when returning fresh at Warrnambool three weeks ago, he was easy in betting (market knew) so highly doubt the stable went in full of confidence. Under the circumstances he stuck to his guns well and was only beaten by the horse with race fitness on his side. Takes plenty from that run and back on top of the ground here on the pro-ride no doubt suits him. Like the wide draw also, he can roll forward (sit OSL) and dictate. His second-up performance in town last prep behind Brockhhoff (Group-galloper) rates well enough for this.
Equietto - 1pt @ 3.60
Geelong R8 No.11 - HONEY CARA
Effort first-up for the new stable two weeks ago here on the turf over the 1200m was excellent considering she did plenty of work in the run, was forced to improve from an awkward position rounding the bend but the way she stuck to the task was pleasing. Only found out late by fitness/stablemate with edge, they had 3rd covered quite comfortably. Certainly better suited to 1300m and do like the wide draw for her, slight query first-time on top of the ground but if she handles it she's easily good enough.
Honey Cara - 1pt @ 5.00
Best Roughie: Newcastle R5 No.9 - LA MUSE
Made terrific ground against the pattern at Wyong two weeks ago from a very awkward position, thought if she draw more favourably she could have certainly given the winners a shake. Interesting to see her draw here today in gate 6 (rail true), expect she'll find the absolute PR of the race and she gets a significant jockey upgrade with T.Berry going on. Considering that recent effort was on a bog track (not suited), and today she strikes a more favourable firmer surface - won't shock to see her find 2-3 lengths and be hard to beat!
La Muse - 1pt @ 9.00