Strap yourself in and enjoy the ride with the Big Marn! Over to you big fella…….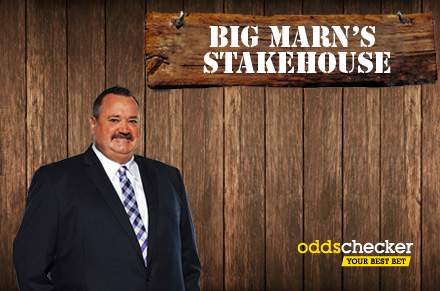 GOLD COAST TITANS vs BRISBANE BRONCOS
BIG MARN'S SUPER SIZED MULTI BET: (5 Leg)
Rabbitohs to win
Knights + 17.5
Sharks - 2.5
Panthers + 6.5
Bulldogs – 7.5
Get on here!
You'd be an April fool to miss this game as it is always a good game of football between the QLD sides. The Titans are playing fantastic footie and I love watching them throw the ball about and have a dig, but Big Brother should beat them. The 1.25 is a bit short for mine but I reckon I have found some value out there. I was very happy to see Milford dart over for the first try last week (giddy up!) but this week James Roberts could be a good bet considering he is up against his old club. He has been very quiet until last week when he showed us what he has got, bursting through tackles and setting up players like Milford, but this week he looks the value to get over the line to be First Tryscorer @ $10.0 (Sportsbet, William Hill, Unibet).
Oddschecker's best offers
Get $2.25 for Bronco's to win by 13+ at
Ladbrokes
.
James Roberts - 1pt @ 10.00
MELBOURNE STORM vs NEWCASTLE KNIGHTS
My bet is definitely the Knights at the line here. I was on the Storm on Monday Night against the Sharks but they looked tired and listless to me, I was really unimpressed with them and I think it is a bad sign early on in the year for the Storm. I like them as a side as they are very methodical and play a good brand of football but Monday night was a worry. The Knights have been less than impressive in 2016 but the start is too much and I really reckon the Knights can get 'em with +17.5 at the line. Palmerbet's $1.90 +17.5 looks a great bet to me.
Oddschecker's Best Offers for Storm v Knights
Get $2.2 for Will Chambers to score a try & Storm to win at
Ladbrokes
.
If you back either team and they lose by 10 points or less, you'll get your money back with
Crownbet
.
Disagree with the Big Marn? Then get $19 for Dane Gagai to score a try & Knights to win at
Ladbrokes
.
(T&C's apply to all offers, excl NSW)
Newcastle Knights +17.5 - 1pt @ 1.9
WESTS TIGERS vs CRONULLA SHARKS
The Big Marn's view: This is a very interesting match. I don't see any great advantage for the Tigers playing at Campbelltown and it certainly isn't an advantage like Leichardt is to them. Both sides are full of good young talent like Tedesco and the two halves at the Tigers whilst the Sharks have Bird and Holmes who are fantastic players. Chad Townsend has been in rare form as well and if the Sharks turn up with the right attitude, they will win and cover the start. Centrebet / Will Hill are $1.91 the -2.5 start. The Sharks are around the $1.65-$1.70 mark straight out and giving up a few points for a $1.91 looks the goods.
I do reckon there is great value to be had in the First Tryscorer market with a bloke who knows how to score a try in James Maloney, he is $26 and gee I reckon that's a good price. He is always around the place and that looks overs for mine.
Oddschecker's Best Offers for Tigers v Sharks
Get $3.75 for Ben Barba to score a try & Sharks to win at
Ladbrokes
.
Get your stake back in bonus points if the Sharkies lose by 10 or less
here
Disagree with the Big Marn? Then get $4 for James Tedesco to score a try & Tigers to win at
Ladbrokes
.
(T&C's apply to all offers, excl NSW)
Cronula Sharks -2 - 1pt @ 1.91
James Maloney - 1pt @ 26.00
NORTH QLD COWBOYS vs ST GEORGE-ILLAWARRA DRAGONS
The Dragons were ok I thought last week but this will be tough. They are coming off the back of two very hard games in the wet at the SCG and the slog against Penrith on Sunday in The Gong where they fell over the line and a draw would have been a better result, particularly seeing as I backed Penrith! The Cowboys had a tough loss to Brisbane but up there they are so hard to beat. I'm going to go the Cowboys 13+ here @ $1.91 with Lux and Unibet. If you want to go a First Tryscorer Michael Morgan ($14 Sportsbet) keeps sniffing them out, he's strong and he's playing good footie. If you want a smoky, he might not start the game and it is tough tip but Jake Granville @ $17 (Sportsbet, Will Hill / Lux / Unibet) is a super footballer and can find the line first as well. If he starts the match, definitely have something on along with Morgan.
Oddschecker's Best Offers for Cowboys v Dragons
Get one of the Big Marn's fancies Michael Morgan to score a try & Cowboys to win at $3.25 at
Ladbrokes
.
Or get $11 for Josh Dugan to score a try & Dragons to win with
Ladbrokes
.
Need a new bookie to big the back Marn's tips? Then join Luxbet and get $500 to play with when depositing $250.
Join Today
.
(T&C's apply to all offers, excl NSW)
North Queensland Cowboys 13+ - 1pt @ 1.91
Jake Granville - 1pt @ 17.00
SYDNEY ROOSTERS vs NEW ZEALAND WARRIORS
We are heading up to the Central Coast on Sunday to call this game live. Bring back the Bears I say! They have lost 4 in a row I know, but I am tipping the Roosters. I think they are over the odds at $2.30. Warriors away from home are a no bet. You just can't back them. Who knows what kind of performance they will throw up! The Roosters went close last week and showed enough to me to suggest they can win this game. Ferguson played well last week and Mitchell looks a good player even though he made some mistakes against Manly. A bloke in rare form is Roosters winger Shaun Kenny-Dowall. The ball seems to find him these days and $10 (Sportbet / Will Hill / Lux) First Tryscorer is great value about a very good player who has been fantastic in a losing side this year.
Oddschecker's Best Offers for Roosters v Warriors
Get $6 for Latrell Mitchell to score a try & Roosters to win at
Ladbrokes
.
Play it safe and get bonus points back if the Roosters lose by 10 or less
here
.
Disagree with the big man? Then the $4 on offer for Roger Tuivasa-Sheck to score a try & Warriors to win should be your bet with
Ladbrokes
(T&C's apply to all offers, excl NSW)
Sydney Roosters - 1pt @ 2.3
Shaun Kenny-Dowall - 1pt @ 10.00
PARRAMATTA EELS vs PENRITH PANTHERS
Well, being a former Panthers legend, I am tipping Penrith again. They are driving me mad. I have tipped them every game bar one this year. They have only won one and that was against Brisbane and do you think I tipped them? I am going to stick with the Chocolate Soldiers. Parra got a boost with Manu Ma'u getting off at the judiciary on Wednesday but the Eels had a tough game last week against the Tigers where they really bashed the hell out of each other. I think Matt Moylan coming back for Penrith gives them some spark in the local derby, Mansour and Hiku were great against the Dragons, Te Maire Martin looks ok to me and Penrith can win this game. They are a fabulous price at $2.75 (Bet 365 / Sportsbet / Will Hill / Unibet) and the line with Penrith getting 6.5 ($1.98 Lux) looks a no brainer of a bet. I'm on the Panthers.
Oddschecker's Best Offers for Eels v Panthers
Get a huge $9 for Matt Moylan to score a try & Panthers to win with
Ladbrokes
.
Being an outsider you might want to use Crownbet's lose by 10 or less bonus as a bit of insurance,
bet here
.
Think the Big Marn is wrong? Then get on Parramatta Eels to lead at Half Time and Full Time at $2.1 with
Ladbrokes
.
(T&C's apply to all offers, excl NSW)
Penrith Panthers - 1pt @ 2.75
CANTERBURY BULLDOGS vs CANBERRA RAIDERS
The Dogs are going to be awfully hard to beat on a Monday night at Belmore Oval. I am plonking straight for a Dogs win 13+ ($2.56 with Palmberbet) which means they will cover the 7.5 line easily. I know the Raiders were touched off on the weekend but they look like a team just waiting to be beaten again if you shut down Josh Hodgson. They are two massive packs of forwards going head-to-head but with the spiritual home of Belmore coming into play for the Dogs, I am very happy to go 13+ here. Dogs to do it easily.
Oddschecker's best offers for Bulldogs v Raiders
Get $3.5 for MWill Hopoate to score a try & Bulldogs to win with
Ladbrokes
Do you want to add a bit more bang to your bet? Join William Hill and get a $700 matched bet! Double your stake!
Join Today
(T&C's apply to all offers, excl NSW)
Canterbury Bulldogs 13+ - 1pt @ 2.56