The Big Marn is up $582 ($50 Stakes) after just 2 rounds of tipping!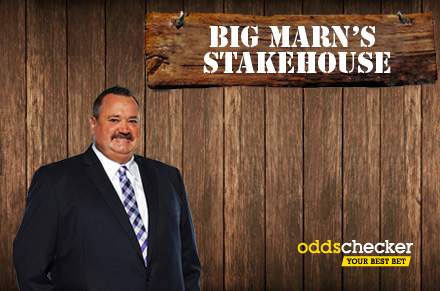 Big Marn's Super-Sized Multi

Cowboys 1-12
Broncos (-18)
Storm 13+
Panthers 13+

Best Price: $73.02 with Palmerbet
MANLY SEA EAGLES vs PARRAMATTA EELS
Manly are a club in turmoil, seeking to play out of a cardboard box next season as they turn their back on the dilapidated Brookie Oval and, god help us, moving away from Macca's across the road. The Eels will be going through the drive thru tonight with the 2 point McHappy Meal after they climb over the top of the peninsula men tonight in what looks like a tight affair. Parra's defence is strong, they are a big tough pack and whilst Manly don't seem to be missing Cherry-Evans so much with Koroisau having a blinder at half-back, the Eels are on a roll and look value straight off the bat ($1.79 UNIBET) to topple the Eagles. This big fella hasn't crossed the paint as much as people have expected but Semi Radradra looks the man to be on for First Try Scorer ($8.15 LuxBet). Manly have started slowly in games this season and the giant Eel will silence the point break brigade early on. Eels in a tight one.
BOOKIE OFFER
ENHANCED ODDS: Don't miss out on the boosted $3 odds Ladbrokes are offering for a
Radradra try and Eels win!
. T&Cs Apply.
Eels - 1pt @ 1.79
NORTH QUEENSLAND COWBOYS vs SOUTH SYDNEY RABBITOHS
Those defending premiers sunk me last week, scoring in the 35th minute of the 1st half against Penrith to scupper our Half-Time / Full-Time double, as well as our 100-1 four-leg multi with the other 3 legs successful. Bugger. No Xmas cards to Townsville. Here I just have to be on the Cowboys. Souths are playing terrible at the moment. They have no grunt and the two big Burgess twins aren't rolling them forward at the moment. The rabbits are looking tired like they did at the end of last year. Reynolds coming back helps a fair bit and am sure they will put in a better performance but against one of the big guns of the premiership, they just can't match a Cowboys side with all guns blazing. The Cowboys 1-12 ($3.15 Bookmaker) looks the go here and I expect the Cowboys to get off to a good start with Gavin Cooper to dot down in Townsville first. He is always sniffing around the ball close to the line and is good odds ($19 Ladbrokes).
BOOKIE OFFER
ENHANCED ODDS: Get $1.70 (normally $1.33) for the Cowboys to get the job done on Friday night. See this special
Ladbrokes Offer
. T&Cs Apply.
Cowboys 1-12 - 1pt @ 3.15
Gavin Cooper - 1pt @ 19.00
GOLD COAST TITANS vs ST GEORGE-ILLAWARRA DRAGONS
This is the toughest game of the round to tip in my humble – but expert – opinion. The Dragons have a solid record on the glitter strip but this is a different Gold Coast side this season who are playing good footy. They came back from 14-0 against the Sharks away to hit the front before the Sharkies rallied late last week. St George can't buy a point at the moment, shut out comprehensively on their QLD road trip by a combined 62-0 so far. That looks good if you are Warner and Kawaja, but not an NRL side. The Dragons have to improve and last week it could easily have been 6 a piece at HT against Brisbane. Been a long time coming but I am tipping Jason Nightingale to score first try (in ages) at $12 with Bet365. Further, I am going to tip the Dragons / Titans Half-Time / Full-Time double at value ($8.55 LuxBet).
BOOKIE OFFER
ENHANCED ODDS: Get $4 for Josh Hoffman to score a try and Titans win with
Ladbrokes' Footy Freaks!
. T&Cs Apply.
Dragons / Titans (HT-FT Double) - 1pt @ 8.55
Nightingale - 1pt @ 12.00
CANTERBURY BULLDOGS vs NEW ZEALAND WARRIORS
The Dogs are coming off the short turnaround but the Warrriors are a nightmare, how can you tip them? Canterbury have won the last 5 meetings between the two clubs and it is hard to go past them again here so chuck it on the Dog's snoz ($1.98 UNIBET) in an intriguing game. The Warrriors have finally seen sense and put Lolohea in the halves with Shaun Johnson, this should add some sting for their impressive outside backs of Kata, Tuivasa-Sheck and Fusitua. This Fusitua can play and reckon he can bag the First Try of the day ($12 BET365) but will expect the usual Warriors implosion if the Dogs front up.
BOOKIE OFFER
ENHANCED ODDS: Score $4.50 about Sammy Perrett crossing for a pie and the Doggies winning the game with
Ladbrokes' Footy Freaks!
. T&Cs Apply.
Bulldogs - 1pt @ 1.98
BRISBANE BRONCOS vs NEWCASTLE KNIGHTS
Brisbane are such a professional outfit and whilst the Knights did perform better against the Tigers, I can't see them getting within cooee of Wayne Bennett's boys. Ben Hunt is finding some form and with strength and depth across the park at home, I am going to side with the Broncos conceding the -18 start ($1.91 Sportsbet). You could have a look at Brisbane 13+ ($1.56 Palmerbet) but the line of under 3 converted tries looks achievable by this red hot side. Given my rap of the Broncos half-back I am going to tip him to be First Try Scorer ($18 Sportsbet) too here. The Broncos will romp this one home.
BOOKIE OFFER
ENHANCED ODDS: Get a juicy $2.10 for Jordan Kahu to score and the Broncos to win the match with
Ladbrokes' Footy Freaks!
. T&Cs Apply.
Broncos -18 - 1pt @ 1.91
CANBERRA RAIDERS vs CRONULLA SHARKS
The Raiders were very disappointing last week but the two halves will be better for the run whilst the Sharks snuck home against the Titans but lose Luke Lewis to suspension here. With Ricky 'Mr Angry' Stuart aiming up against his old club, there will be no shortage of feeling in this game. I am going out on a big limb here – get on the Draw!***** You read that correct my followers. I am tipping it to be that close, an 80 minute draw is the play at massive odds ($23 William Hill). Once we hit that golden point in the capital, I expect the Sharks ($2.17 UNIBET) to see it home off the field goal expertise of James Maloney or Valentine Holmes. I am tipping history to repeat. There might never be another front rower like me, but I reckon Canberra and Sharks will go into overtime just like they did last season in this fixture.
BOOKIE OFFER
ENHANCED ODDS: Don't turn down the $5.50 on offer for Jack Bird to score and the Sharkies to win this one with
Ladbrokes' Footy Freaks!
. T&Cs Apply.
80 Minute Draw - 1pt @ 23.00
WESTS TIGERS vs MELBOURNE STORM
The Storm improved on Monday night after being quite flat in previous rounds, they square up here against a side that has lost 4 in a row. As typical for the Tigers in recent seasons, they are starting to struggle and it won't be long until some big names face the annual Wests Tigers firing squad. Woods is a big loss and one thing the Tigers don't have is depth, so at the prices it is hard to go past Melbourne to win ($1.75 William Hill), giving up the 2.5 line $1.96 LuxBet) looks good and I expect them to be dominant throughout, leading at Half-Time and Full-Time here ($2.50 William Hill). With so many class players it is hard to see them playing as ordinary as they have been, they should find form on Sunday afternoon and are too hard to go past.
BOOKIE OFFER
ENHANCED ODDS: Finish the weekend with some extra cash as you can score $3.25 for Young Tonumaipea to score and the Storm to win with
Ladbrokes' Footy Freaks!
. T&Cs Apply.
Melbourne Storm - 1pt @ 1.75
Storm / Storm (HT-FT Double) - 1pt @ 2.50
SYDNEY ROOSTERS vs PENRITH PANTHERS
Panthers are the best bet of the round. The Roosters we better against Souths but the Panthers were excellent against the defending premiers and have been performing well against all the good sides. They beat Brisbane and Parramatta, they had the Cowboys on toast, somehow they didn't beat the Dragons – they could be 6 from 6 right now. They will have too much for the Roosters on Monday night and I am going Big…….Marn. I am tipping Penrith to cover the -2.5 line ($1.94 LuxBet) and go well beyond it, in fact I am on them to go on a rampage and take the game out 13+***, really cooking the chooks.
BOOKIE OFFER
ENHANCED ODDS: Don't shun a boosted $3.50 for Josh Mansour to score and the Panthers to win with
Ladbrokes' Footy Freaks!
. T&Cs Apply.
Panthers -2.5 - 1pt @ 1.94
Panthers 13+ - 1pt @ 3.65