If you'd followed all of the Big Marn's tips this season with $50 bets, you'd be up $2743!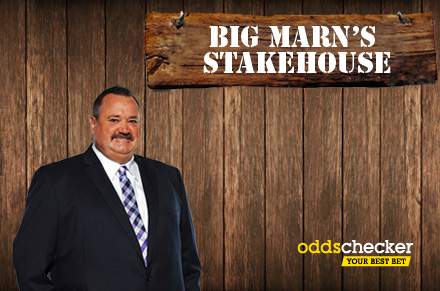 THE BIG MARN ALL-UP

BRONCOS -14.5
RAIDERS -7.5
KNIGHTS +6.5
DRAGONS HT/FT
WARRIORS 1-12

Best Odds: $78.37 LuxBet

Get on here: http://bit.ly/BIGMARNMULTI
BRISBANE BRONCOS vs SOUTH SYDNEY RABBITOHS (22nd April 7.50pm)
Souths are going like busteds, Broncos are flying. Souths have been getting touched up in recent weeks, smashed by the Bulldogs (whose form since has been flaky), gave the Roosters their first and only win of the season and were hammered by North QLD last week. The grunt up front from the Bunnies in recent seasons has gone missing; George Burgess was close to the best front rower in the game in their premiership year, but not sighted in 2016. I just can't have them.
I am siding with the Broncos giving the start, in fact they look a lay down misere to cover the 14.5 handicap ($1,94 LuxBet). As for First Try Scorer, it is impossible to go past Corey Oates ($7 Bet365) who has a decent habit of crossing first in games. Milford loves linking up with the flying winger and he looks a good investment to get the Broncos on the board.
BOOKIE OFFER
ENHANCED ODDS: Get a juicy $2 for a Broncos win by 10+ (Normally $1.50).
Get on here!
T&Cs Apply.
Broncos -14.5 - 1pt @ 1.94
CANTERBURY BULLDOGS vs GOLD COAST TITANS (23rd April 3pm)
The Bulldogs have been out of sorts in recent times. Ever since they smashed the Bunnies everyone thought Hasler's men were the real deal, but a thumping at the hands of Canberra, a lucky win over Manly and a beating by the Warriors last week have pundits like myself scratching our heads. Having dribbled all of that I think the dogs might sneak this one but I say that with no confidence. What I can tip with larger than life enthusiasm is the Titans with the +9.5 start ($1.92 LuxBet). That is too big. The Titans have played solid footy this season and have pushed good sides like Brisbane so the line looks a very nice start to get for a much improved outfit.
I am going to give a 2015 prolific try scorer the chance to bounce back in this game and plant the steeden down first: Curtis Rona ($8 Bet365). He crossed 23 times in 25 matches last season but has only bagged two in 2016. I expect the drought to end in this game so take the nice price about Rona to score first.
BOOKIE OFFER
ENHANCED ODDS: Josh Morris to score a try and the Doggies win is $3.20!
Get on this offer!
T&Cs Apply.
Titans +9.5 - 1pt @ 1.92
CANBERRA RAIDERS vs WESTS TIGERS (23rd April 5.30pm)
The Wests Tigers come into this clash against the Raiders with serious injury woes, a young side with limited experience out wide and a big task overcoming Canberra at home. This is despite the Tigers having a decent record in Canberra. The Raiders were brilliant against the Dogs a few weeks ago but have been fairly average since, albeit against very good sides.
This is their time to step up in a very important game for the Raiders. Stuart will have them ready for a big showing against a struggling outfit that just do not know how to win. I am going all chips in here Canberra. Raiders to win ($1.45 William Hill), Raiders giving up the 7.5 start ($1.92 LuxBet), Raiders to lead Half-Time / Full-Time ($2 Bet365), Edrick Lee to be First Try Scorer $10 Bet365). I am going big in all categories here the Raiders, get on the boys in lime.
BOOKIE OFFER
ENHANCED ODDS: If Jordan Rankin touches down at anytime and the Tigers win the game, collect at odds of $7 with
Ladbrokes' Footy Freaks Offer!
T&Cs Apply.
Raiders - 1pt @ 1.45
Raiders / Raiders - 1pt @ 2.00
NTH QLD COWBOYS vs PARRAMATTA EELS (23rd April 7.30pm)
Parramatta are in good form but the Cowboys are in great form. The game is back up there in Townsville and I simply can't tip against the Cowboys. They have been fantastic this year. Mind you Parramatta have been very good too with a big, tough forward pack and a decent set of backs but I don't think they can match it with the Cowboys machine when it hits overdrive. Every Cowboy knows exactly what their job is and with Thurston marshalling the troops, they are too strong.
I am sticking with the Cowboys Half-Time / Full-Time ($1.85 Bet365) and expect them to cover the 8pt start ($1.92 Sportsbet) which doesn't seem enough to me. Cowboys to score first through Michael Morgan ($15 Centrebet). Gavin Cooper got us the chocolates last week at $19 and as you can imagine, that box of chocolates didn't last long in my household, so Morgan to bring us this week's sweets early on in this enticing clash.
BOOKIE OFFER
INSURANCE: Get your cash back in bonus points if your 1st try scorer bet scores in the first half! See
here!
T&Cs Apply.
Cowboys / Cowboys - 1pt @ 1.85
Michael Morgan - 1pt @ 15.00
CRONULLA SHARKS vs PENRITH PANTHERS (24th April 4pm)
I am of course a Sharks man but also a very modest former Panther legend so this particular game tugs on the Big Marn's heart strings. The Panthers side are a better side than we are seeing on the scoreboard at the moment. They could easily be 7 from 7 this season and I expect them to make an impact this year. I do query them here though after Monday night on a heavy track where the Panthers pulled up sore, whilst the Sharks had almost a training run against the Raiders. They meet at Shark Park for this clash so I have to stick with Cronulla.
I am going to tip Cronulla straight out ($1.60 UNIBET), at the -4 line as well ($1.86 LuxBet). The Panthers will give them a run for their money but I expect the locals to repel what the mountain men throw at them. Looking to First Try Scorer I am throwing back to my own magnificent front row days and am going to tip a man mountain in rare form who excels at the art of being a prop. It is the most important position on the field no doubt. Andrew Fifita ($26 William Hill) is huge odds to score the first four-pointer and we are rolling the dice with him. He has to be in the Australian team with his big motor, he's fast, he is awkward to stop and he is a threat every time he gets the ball. I know there are mistakes and penalties but he is an old school player. I like that. Back him.
BOOKIE OFFER
ENHANCED ODDS: Fancy jack Bird to score and the Sharkies to win? Get a boosted $4 with
Ladbrokes' Footy Freaks!
T&Cs Apply.
Sharks - 1pt @ 1.60
Andrew Fifita - 1pt @ 26.00
NEWCASTLE KNIGHTS vs MANLY SEA EAGLES (25th April 2pm)
Step up my roughie of the weekend. Newcastle Knights. Yes they got towelled up 53-0 by a rampant Broncos outfit but the Knights did lose 3 players to the head bin which didn't help and get to play out of their home ground where they beat the Tigers last time here. The $3 (UNIBET) looks a decent price the Knights straight off the bat so get out your two-up money out and invest on Newcastle to turn things around. Knight-em-up. I have to take them at the +6.5 line as well ($1.81 LuxBet), that is too big and back the Knights to score first try ($2.23 UNIBET). Who will be the Knight that dots down first in the game? I am going for Akuila Uate. He's due. He has had a lean season but the signs of improvement in the last few weeks are there. You can get a good price about him ($11 Sportbet) and loves scoring in front of his adoring home crowd so we are cheering Uate and the Knights to get Anzac Day off to a flyer.
BOOKIE OFFER
INSURANCE: Get your cash back in bonus points if your 1st try scorer bet scores in the first half! See
here!
T&Cs Apply.
Knights - 1pt @ 3.00
knights +6.5 - 1pt @ 1.81
Akuila Uate - 1pt @ 11.00
ST GEORGE-ILLAWARRA DRAGONS vs SYDNEY ROOSTERS (25th April 4pm)
I have loved calling this game each year and Monday will be no exception. There is plenty of emotion, passion and great sentiment that makes this a special game on a very special day. Lest We Forget. The crowd will be big and they will be in for a real treat as they are each and every year. I have to side with the Dragons in this one. They climbed out of their slump against a decent Gold Coast team away, and appear to be back on track now. The same can't be said for the Roosters who have one win this season against an underwhelming South Sydney.
The Dragons won this match last year and I expect them – despite being betting outsiders at $2.25 (UNIBET) – to take the 2 points here. I believe they will lead and maintain that lead through Half-Time / Full-Time at good odds ($3.30 Bet365) and we will give Jason Nightingale another chance on this momentous occasion to bag the first try at $13 (Bet365). It is going to be Dragons day on Monday so don't be afraid to parlay up some of those Newcastle Knights winnings into the Dragons for a nice big bank for early evening two-up. Come in spinner.
BOOKIE OFFER
ENHANCED ODDS: Don't miss out on a boosted $4.50 for Josh Dugan to score and the Dragons to win!
Get on this offer!
T&Cs Apply.
St George Dragons - 1pt @ 2.25
Dragons / Dragons - 1pt @ 3.30
Jason Nightingale - 1pt @ 13.00
MELBOURNE STORM vs NZ WARRIORS (25th April 7pm)
This is a big danger game for the Storm. They are not playing great football and were lucky to beat the Tigers at Leichardt on Sunday. They are struggling big time and are vulnerable here against the Warriors. Ok, I know I say it is impossible to tip the Warriors at any time but my tune has changed for this game. I am tipping the Warriors here. Losing RTS for the season is a blow but the talented Lolohea moves to fullback and the experienced Thomas Leuluai comes in at 5/8th. He will bring a calm head to the halves with Shaun Johnson and with Vatuvei back, this makes it a real danger game for the Storm.
The Storm will take some confidence from beating the Knights recently in NZ but this is Anzac Day and you talk about Australia and New Zealand here, the Kiwis will be fired up and I think they can overcome the 'can't back them' hoodoo. I reckon I have found some good value too – let's go the Warriors 1-12 at ($3.75 LuxBet) because if the Kiwis do win, I can't see it by more than two converted tries against a side who doesn't lose by big margins. First Try Scorer could be a tough choice here but I am going with an incredibly talented player who at times can be an enigma: Shaun Johnson ($15 UNIBET). Sometimes he sits back and waits for things to happen instead of using his amazing talent to make things happen. He is a good young bloke whom I have met a few times so let's get behind Shaun and cheer him on to score the first try at decent odds.
BOOKIE OFFER
INSURANCE: Get your cash back in bonus points if your 1st try scorer bet scores in the first half! See
here!
T&Cs Apply.
Warriors 1-12 - 1pt @ 3.75
Shaun Johnson - 1pt @ 15.00