The Big Marn is at it again with a number of big value tips for the round 10 NRL action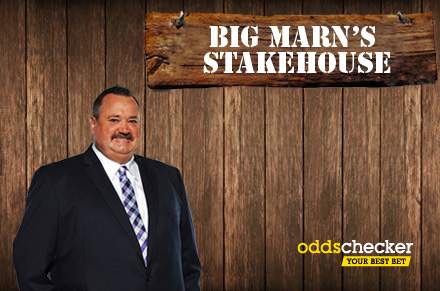 BIG MARN MULTI: 4 legs
RAIDERS Straight Out
PANTHERS -4
STORM / COWBOYS HT/FT Double
TIGERS +8.5

Best Odds: $47.79 (LuxBet)
Get on here!: http://bit.ly/BIGMARNMULTI10
ST GEORGE-ILLAWARRA DRAGONS vs CANBERRA RAIDERS (7.50pm Thursday 12th May)
It's a funny old game first up on Thursday night with a team full of points, in them against a team who cannot buy a point from the local pie shop. Canberra have been looking very dangerous with the ball in hand recently and have been scoring plenty of points. St George were less than impressive against a very hot and cold Warriors side and they might struggle to handle the Austin / Sezer halves combination that is hitting its straps.
I am going to go lime: Raiders Half-Time/Full-Time Double ($2.43 UNIBET), Raiders Straight Out ($1.75 UNIBET) and with the talent oozing in their backline, I expect Jordan Rapana to be a serious chance to score first ($10 William Hill) on the night. Raiders will be too good for the Red V.
BOOKIE OFFERS:
Raiders Boosted to $2.60 to lead at half time and full time!
Click here
T&Cs Apply.
Stake back if your team leads by 6 or more at any time but loses!
Click here
T&Cs Apply.
Raiders Odds boosted to $2 for a H2H win!
Click here
T&Cs Apply.
Raiders / Raiders - 1pt @ 2.43
Rapana First TS - 1pt @ 10.00
PARRAMATTA EELS vs SOUTH SYDNEY RABBITOHS (7.50pm Friday 13th May)
Souths are going awful. I know they have moved Inglis to 5/8th but with Grevsmuhl pushing for a move out and some obvious unrest in Redfern, it is hard to see them winning here. Parramatta haven't been without their own unrest, the Salary Cap drama has been a heavy cloud over the Eels and they still have to try and offload players to get under it, but they have more to play for on Friday night and are in good form. They will be too strong for the Bunnies straight out @ $1.57 (Bet365).
Speaking of controversy – and I am a controversial marn – we are going to go with some serious value for First Try Scorer: Junior Paulo ($41 LuxBet). He is in a bit of hot water because it is alleged he donned the melon-gear and went for an anonymous gallop for Oatley Rugby 3rd XV Rugby Union team. You would have hated being on the end of some of his runs if you were a Beecroft park rah rah player. He has scored two First Tries this season so he knows what it takes. I expect him to want to say sorry in the best possible way, making it a First Try hat-trick for the season against the Rabbits.
BOOKIE OFFER: Michael Jennings to score a try & Eels to win $3!
Click here
T&Cs Apply.
Eels - 1pt @ 1.57
Paulo First TS - 1pt @ 41.00
PENRITH PANTHERS vs NEW ZEALAND WARRIORS (3pm Saturday 14th May)
I am not sure if I have reminded my loyal followers that I am a former Panther legend but I am. I do believe the Panthers can make the Top 4. If they can string some wins together they will be in a perfect position to be a serious player come semi-finals time. They take on a team who have a big talent injection this week: Matulino, Lolohea, Leuluai and Thompson bring back a lot of starch to the Warriors outfit but Penrith just look way too good and in fact I am making them my best bet of the weekend (again!) Take them Straight Out ($1.65 SportsBet), conceding the -4 start ($1.91 Bet365) and you know what, I reckon the mountain men are going to turn on the razzle dazzle so let's take some Panthers 13+ ($3.20 UNIBET) as the cream. They will be winning.
BOOKIE OFFER: Matt Moylan to score a try & Panthers to win $5!
Click here
T&Cs Apply.
Panthers - 1pt @ 1.65
Panthers 13+ - 1pt @ 3.20
MELBOURNE STORM vs NORTH QUEENSLAND COWBOYS (5.30pm Saturday 14th May)
This is an interesting game because we keep waiting for the Cowboys to drop off a bit but they just don't look like they are going to. The Cowboys had a lot of players involved last week. You don't know whether there is a drop off factor with the weekend off for most of the Storm players, so lots of variables come into play. I say this most weeks – it is impossible to tip against the Cowboys but I must admit though, the last couple of games the Storm have improved, they do look better and are ready for a crack at the Cowboys up in Brisbane as part of the double-header.
Given all of that I think we look at a Storm / Cowboys Half-Time / Full-Time Double at good value ($7.75 LuxBet) as well as backing the Cowboys 1-12 ($3.05 Palmerbet) because I cannot see them giving the Storm a touch up. We could look at the Storm To Score First Try ($2.25 UNIBET) and making it a quartet of bets here, let's side with Suliasi Vunivalu as First Try Scorer ($11.50 LuxBet). He has played 3 games and scored 6 tries. I fancied myself as a try scoring machine in the heyday as I played for 12 years and scored 9. How good is this bloke then? Get on.
BOOKIE OFFER: Lachlan Coote to score a try & Cowboys to win $4!
Click here
T&Cs Apply.
Storm / Cowboys - 1pt @ 7.75
Cowboys 1-12 - 1pt @ 3.05
Storm to Score First - 1pt @ 2.25
Vunivalu First TS - 1pt @ 11.50
MANLY SEA EAGLES vs BRISBANE BRONCOS (7.55pm Saturday 14th May)
Manly just don't have the weapons to match it with the Broncos away from home. Stewart is back which is a big in for them, but the Broncos are going too well to dismiss here. No need to ramble on, Broncos 13+ ($1.94 LuxBet). Too much strike power. You know I am a fan of my Oates, great for brekky but I am going to go away from the man who has been so healthy to our bank balances, and side with Benny Hunt for First Try Scorer ($20 Sportsbet). I reckon the diminutive half-back who dropped 'that' kick-off in the GF has been flying this year and gee he is good value to dive over first.
BOOKIE OFFER: James Roberts to score a try & Broncos to win $3!
Click here
T&Cs Apply.
Broncos 13+ - 1pt @ 1.94
Hunt First TS - 1pt @ 20.00
NEWCASTLE KNIGHTS vs CRONULLA SHARKS (Sunday 3pm 15th May)
I am a Sharks supporter but I worry about this game. This is despite the Sharks winning 6 in a row, it is still too hard to tip against them. On paper the Knights look ok without being great, this is all about attitude this game. If the Sharks come out with the same attitude as they did against the Broncos they will smash them, but I know they won't. For some reason they drop off against the weaker teams and I expect this to be a battle, so I am going to tip the Sharks 1-12 ($3.40 LuxBet) which is a decent price. The Sharks make a habit of making games they should win into grinds despite so many of their players being in career best form.
One bright spot for the Knights is I fancy them to score the First Try ($2.90 Bet365) of the game, and lets also vouch for Nathan Ross to be First Tryscorer ($15 William Hill). I am concerned about attitude here for the Sharks, rolling up expecting to win and the Knights might catch them napping early.
BOOKIE OFFER: Jack Bird to score a try & Sharks to win $2.50!
Click here
T&Cs Apply.
Sharks 1-12 - 1pt @ 3.40
Knights score first - 1pt @ 2.90
Ross First TS - 1pt @ 15.00
WESTS TIGERS vs CANTERBURY BULLDOGS (Sunday 5pm 15th May)
The Tigers are a big price against a side who have been playing rubbish football. What slightly worries me about the Tigers is that they must do it without their strike weapon in Tedesco, but they do have some big inclusions with the like of Woods, Moses and Elijah Taylor, who has just joined from Penrith. The undoubted bet here is as clear as a Sydney autumn day – the Tigers with the +8 start ($2 Bet365). It looks too big. If you fancy the Bulldogs to sneak home, then 1-12 The Dogs is the value play for Doggies fans.
As for First Try Scorer – let's go for the offspring of a Tigers legend in Curtis Sironen ($41 Sportsbet). It's a big price. My mate Blocker reckons he himself was the best forward the Tigers have ever produced, fair dinkum, what about Sirro? Or Kevin Hardwicke? With an old man like that, Sirro Jnr is bound to grab the first meat pie sooner or later, so let's get him over the line first! Keep quiet Block.
BOOKIE OFFER: Kevin Naiqama to score a try & Tigers to win $9!
Click here
T&Cs Apply.
Tigers +8 - 1pt @ 2.00
Sironen First TS - 1pt @ 41.00
GOLD COAST TITANS vs SYDNEY ROOSTERS (Monday 7pm 16th May)
I have got to tip the Roosters on Monday night as they were very good the last time they played against the Knights. So long as they head to the party strip to play footy. The Gold Coast are in one of those rough patches, losing 5 in a row but have been playing ok footy at times. Pearce is back, Hastings looked better with Pearce being there. Whilst the Roosters lose strike power in SKD being on the sidelines, they are able to call on Daniel Tupou as a replacement – handy.
Am going to go the Roosters 13+ ($2.85 Palmerbet) as they will have too much for the Gold Coast team whom have failed to live up to early season promise. Going to go with Joe Burgess as First Tryscorer ($9 LuxBet) as the Chooks get their season back on track.
BOOKIE OFFER: Latrell Mitchell to score a try & Roosters to win $3.50!
Click here
T&Cs Apply.
Roosters 13+ - 1pt @ 2.85
Burgess first TS - 1pt @ 9.00