The Big Marn's back for round 19, he has tips on all 6 games and a juicy 4-leg all up!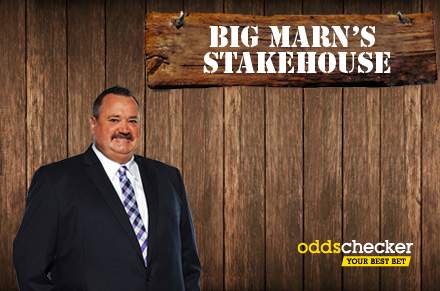 BIG MARN'S ALL UP: SEA EAGLES (Straight) BRONCOS 13+ POINTS = OVERS (Knights / Storm) SHARKS 13+ BEST ODDS: $32.43 (Bet365)
ST GEORGE-ILLAWARRA DRAGONS vs GOLD COAST TITANS
After a magnificent State Of Origin on Wednesday night, it's back on the tools and time for club rugby league as the main focus. Tonight we see the pairing off of two sides whom have had mixed seasons with only two points separating them on the ladder. The Gold Coast put out a strong line-up here as they welcome back the likes of Taylor, Mead, Pettybourne, Hurrell and Nathan Friend. They are some big additions whilst on the Saints side of the tunnel, Dugan is gone with a broken jaw which is a big loss. I am plumping for the Gold Coast ($1.75 UNIBET). They have performed well enough recently to suggest they will be a big shout here and with such a strong line-up, they will be ready to give the locals a big run for their money. The Dragons were belted last time out by the Sea Eagles so it isn't the best form to the table from them. They have trouble scoring points, which isn't an issue for the Gold Coast. I believe the angle to go here is also the Gold Coast 1-12 ($3.35 William Hill) at some value, as Saints will muscle up at home and not let them get away too much. How dangerous was this Frizell lad close to the ruck in the State Of Origin series? I reckon Mary MacGregor will use him early and use him hard, so let's go for him to score first ($26 Sportsbet).
Titans - 1pt @ 1.75
Frizell First TS - 1pt @ 26.00
MANLY SEA EAGLES vs NEW ZEALAND WARRIORS
For those that watched the Eagles play the Cowboys a few weeks ago in Monday Night footy, they showed glimpses of what they could do by pushing as very good side to the brink. They went back to Brookie and were super odds against the Saints, whom they duly smashed to smithereens 36-6. They are back at their northern beaches home and whilst it isn't the fortress it once was, they take an imposing record against the Warriors out of the home dressing room that could come into play here. I find it hard to believe the Eagles are odds-against, and as such I have to be on at the $2.28 (UNIBET). Tom Trbojevic gets his opportunity at fullback as an out-of-sorts 'snake' Stewart gets operated on. Api Koroisau has shown all and sundry that he is a top quality first grade footballer and his swift dummy-half play will benefit the boppers like Taupau and Lussick. He will also give DCE more space to release the outside backs and I expect the Eagles to put on a show at home. I am going the Eagles 13+ ($6 Bet365) against a talented but erratic Warriors outfit. Whilst on Api K, let's take the juicy odds about him to score First Try ($26 LuxBet), as he doesn't mind a scoot from dummy-half close to the line.
Manly - 1pt @ 2.28
Koroisau First TS - 1pt @ 26.00
SOUTH SYDNEY vs BRISBANE BRONCOS
Here is a match that the Brisbane Broncos simply have to win. For a side that looked absolute stand outs for the first 6-7 rounds, the wheels have definitely fallen off the Bronco road train and unless they can bag the two points against a hapless South Sydney, then there season is on some trouble. Souths are doing their best to catch Parramatta in the 'off-field drama stakes' and this week sacked Paul Carter and Kirisome Au'ava for various misdemeanours. Souths have lacked depth this season and these two departing this week doesn't help things at all as both could play. Broncos will welcome back some tired State Of Orgin players – especially Gillett, Parker, McGuire and Thaiday. These boys had to do a mountain of work defensively on Wednesday night, and come the 60th minute they will be feeling the pinch. Having said that I believe Brisbane are specials ($1.50 Sportsbet) and expect them to really deal it to Souths 13+ ($2.75 William Hill) to heap more misery on their wretched season. Anthony Milford is due a big game, so its time he steps up and delivers us the First Try ($11 Bet365). Broncos will be too good here. They have to be.
Broncos - 1pt @ 1.50
Milford First TS - 1pt @ 11.00
NEWCASTLE KNIGHTS vs MELBOURNE STORM
There is one absolute stand out bet to have here in this game and this comes straight off the bat – OVERS (48.5) in Total Points ($1.91 Bet365). One side is superb at scoring points and one side superb at leaking points. The Knights – to be fair to them – have shown some steel recently, they pushed Canberra to the brink and were terribly unlucky. Jarrod Mullen back for the Knights is a massive boost, as will be the return of Dane Gagai from State OF Origin duty. These boys will give a good show and with a 2pm kick off on Sunday, this game screams 'points'! Given that the Storm's heartbeat is Cooper Cronk and Cameron Smith, I believe one of these boys could well be rested here. Bellamy will not get a better opportunity to give one or both his big guns a break before the semi-final series. Even if they do play the QLD players were well and truly gassed from their Origin duty, and when you add that to Newcastle's recent improvement and being at home, I see the Knights plus the 16.5 line ($1.91 LuxBet) as a great bet. The 16 start just looks too big. The Storm will score some points and will probably win the match, but with the 16 up our sleeve it is a great start. Lump on Vunivalu to score at any time ($1.50 William Hill) and let's go with him to be First Try Scorer ($6.70 LuxBet) as well.
Over 48.5 Points - 1pt @ 1.91
Knights +16.5 - 1pt @ 1.91
Vunivalu First TS - 1pt @ 6.70
Vunivalu Anytime TS - 1pt @ 1.50
PENRITH PANTHERS vs PARRAMATTA EELS
Oh Parramatta. I guess you aren't NSW Greyhounds so things are looking up. The club is in absolute turmoil at the moment, Corey Norman – who has been an absolute stand out this season – has been stood down by the club, their other weapon in Radradra is out for an extended period, oh it is chaos out west. They square off against a Panthers outfit whom seem hell-bent on trying to score off every single play, no matter where they are on the field and as such, have had a few mini-implosions in games. They let a poor South Sydney outfit nearly grab them a few weeks ago and were overrun by the Sharks last start, however I expect them to right the ship here against the Eels, who just cannot go without Norman. The $1.30 straight out the Panthers is too short for mine, but the value is definitely in the Panthers 1-12 ($3 Bet365) as they won't thump Parra, but do enough to get across the line in a very important match for the mountain men. Nathan Cleary learnt a lot from last game and I expect him to have a decent impact here. Let's side with him to dot down first ($26 UNIBET) and get the Panthers on their way to victory. Might be worth a few bob on the Panthers Half-Time / Full-Time double as well ($1.72 Bet365).
Panthers 1-12 - 1pt @ 3.00
Cleary First TS - 1pt @ 26.00
Panthers / Panthers - 1pt @ 1.72
SYDNEY ROOSTERS vs CRONULLA SHARKS
Is this the season? Can this be the big one for the boys from the Shire? There is one thing for sure, this isn't the season for the Eastern Suburbs set, their latte's have fallen flat and those abdominal muscles (you know the ones – like I used to have) are sagging as the sorry Roosters just cannot take a trick. On paper the Roosters have an outstanding outfit, but for some reason it just has not happened for them this season. The Sharks are having a vintage year. Last week they did it without 5 big guns whom led the Blues to victory on Wednesday night, their belief is reflected in the relentless way their players produce each and every week. It's a great time to be a Sharkies fan.
And guess what? It ain't stopping now. Sharks off the bat ($1.57 Bet365) looks the goods, they are going to beat these Roosters and beat them well. In fact I am going to back the Sharks 13+ ($2.88 Bet365) to do a real number on them. The Sharks have so much depth and have been blessed with a great run of low injuries. There is so much to like about this side, and their momentum won't be stopped by an under-performing Roosters.
Val Holmes. How good is he? Limitless talent. Knows where the try line is, and I am going to have a few bob on him to score the First Try at ($8.05). It's going to be a great weekends footy that will be topped off by the Sharks relentlessly marching towards the Minor Premiership.
Sharks - 1pt @ 1.57
Holmes First TS - 1pt @ 8.05