The Big Marn sinks his teeth into all the round 21 NRL action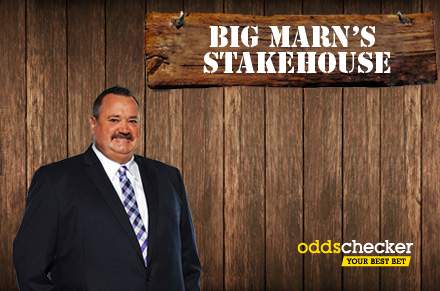 BIG MARN'S MULTI: ROOSTERS to win PANTHERS to win TIGERS 13+ SEA EAGLES 13+ SHARKS 13+ BEST ODDS: $40.05 (William Hill)
ROOSTERS vs BRONCOS
We kick off the week with a team who can't seem to buy a win against a side whom have fallen off a cliff considering their early season form. The Broncos were trounced at home by the Panthers last weekand their forwards were awful. To lose McGuire and Thaiday is a big loss, offset a bit by the return of Gillet, but the Broncos are in a hole and I doubt they can climb out of it tonight. If the Roosters ($1.95 Bet365) are ever going to beat a decent side, then it is going to be this week. I can see the Broncos getting hammered through the forwards. On paper and at the odds, the Roosters look the bet straight out, but I am going to stick the neck out and go with the Roosters 13+ ($4.50 William Hill) as well. I expect the Roosters to get off to a flier, and despite him being quiet this season and not scoring for a while, let's go with Shaun Kenny-Dowall ($15 Sportsbet) for First Tryscorer.
Roosters - 1pt @ 1.95
Roosters 13+ - 1pt @ 4.50
Kenny-Dowall First TS - 1pt @ 15.00
BULLDOGS vs DRAGONS
The Bulldogs copped a wakeup call last week against the Cowboys, getting hammered 36-0, whilst the Dragons capitulation was most welcomed by Jason Taylor's Wests Tigers on Sunday. The misery will continue here for the Dragons, whom struggle to score tries and aren't afraid of conceding them. Pressure is mounting down at Kogarah and in the Gong, and with a few of their NRL squad playing up earlier in the week, things lurch from bad to worse for them. There is no other bet then to take dead aim at the Bulldogs 13+ ($1.62 Bet365). It's the only way to go, and we will give Curtis Rona ($11 William Hill) another tilt at First Tryscorer. Things could get very ugly for the Dragons on Friday.
Bulldogs 13+ - 1pt @ 1.62
Rona First TS - 1pt @ 11.00
WARRIORS vs PANTHERS
This game has overs written all over it. The line sits around the 40 point mark, and even it is a bit wet, both sides can score points and I expect them to cover the line so go with Total Points Overs ($1.90 Sportsbet). The Warriors have been quite consistent in the last month but also a bit unlucky in that they have lost two Golden Point matches in a row against the Eagles and Raiders and this will play on their minds. I am going to stick with the Panthers ($2.24 Palmerbet) in this one, they were great last week against Brisbane, putting the Broncos to the sword in front of their home crowd. I cannot see the Panthers winning by more than two tries, so lets go Panthers 1-12 ($3.85 William Hill) for some additional value, and First Tryscorer – the big bullocking efforts of Josh Mansour ($12 Bet365) have seen him earn a rep call up and he performed well. He gets plenty of ball so we will roll with him to dot down first.
Panthers - 1pt @ 2.24
Panthers 1-12 - 1pt @ 3.85
Mansour First TS - 1pt @ 12.00
EELS vs WESTS TIGERS
Parramatta's resolve is gone now. This was on display last week when the Gold Coast gave them a touch up. You have to admire the way the Eels stuck at it, but it seems that it has now taken its toll. The Tigers have some momentum up after dumping Saints and we can see it continuing here over the hapless Eels. The Total Points line around the 44 mark could be in jeopardy as both sides will fling it around, although the 8-0 result the last time these two met might defy that logic! I do have to plump for the Tigers 13+ ($2.55 William Hill). It appears the value and with Tedesco and the halves running like men inspired, it could blow out. Stick with Teddy ($9.20 LuxBet) to be First Tryscorer. Too much speed, talent, everything. Great player.
Tigers 13+ - 1pt @ 2.55
Tedesco First TS - 1pt @ 9.20
COWBOYS vs STORM
However much I admire the Cowboys as a side, I just cannot tip them without Thurston playing. The Storm beat them the last time they played up in Brisbane, and I have to play the Storm ($1.77 Sportsbet) straight off the bat. That's a really good price. As is the Storm 13+ ($3.75 Bet365). I am going to have something on a blow out as the Storm are at home and when they put it together, they are simply outstanding. I expect the Storm to score first try ($1.83 William Hill) and will go with Cameron Munster ($17 Sportsbet) to be that First Tryscorer. Storm all the way.
Storm - 1pt @ 1.77
Storm score first - 1pt @ 1.83
Munster First TS - 1pt @ 17.00
RABBITOHS vs RAIDERS
As I said last week, I just cannot tip the Rabbitohs as they are going awful. They were spirited in their second half fightback, but Manly had them at 6's and 7's as they blew out to a 18-0 lead inside the first half. The other mob are a funny lot, they should win by 20 but then get the yips and win by 2, how often does it happen? They had the Warriors baked last week but let them back to go to Golden Point, and when they were expected to wallop Newcastle, they got the miracle result in the end when the Knights looked home. Given they are away from home, the play is the Green Machine 1-12 ($3.30 Bet365) . They are not demolishing sides and given they are playing it at ANZ, the Rabbitohs will put up some show, but I cannot see them finishing on the right side of the ledger. As for First Tryscorer – the big fella has tried his heart out, he leaves it all on the field and I expect that big pommy lump to give their fans something to cheer about – Sam Burgess ($34 LuxBet) to score first.
Raiders 1-12 - 1pt @ 3.30
S. Burgess First TS - 1pt @ 34.00
SEA EAGLES vs KNIGHTS
The Eagles head back to Brookie and are on a roll, the Knights still have a few players out and are having a horror season, only made worse by losing Mullen for this game. They are trying hard but are simply not good enough. The Eagles will win and win easily, get on the 13+ ($1.50 William Hill) First Tryscorer: Daly Cherry-Evans ($23 Bet365). He was a bit quiet on Monday night against Souths but with a spot in the 8 still possible, expect him to hit back hard at home against the hapless Knights. BTW anyone cop the tip for a few bob on Jamie Lyon as First Tryscorer last week? Best price of 29.0 if you did your homework at Oddschecker.
Manly 13+ - 1pt @ 1.50
Cherry Evans First TS - 1pt @ 23.00
TITANS vs SHARKS
Match of the round. What a game in prospect with the Sharks on one hand careering away with a magnificent winning streak, playing amazing football with their back three having a picnic off the ball and field position established by their forwards. The Gold Coast have really stood up this season, putting together some strong wins and it is no easy trip to the glitter strip these days. The Sharks have cleared every hurdle put in front of them. This is a decent one as the Gold Coast will give a yelp here, but I expect the Sharks ($1.47 UNIBET) to maintain their streak because they simply are too good. Gee they are a great side to watch. They really are a team who can score from anywhere. As such I am going to go the Sharks 13+ ($2.55 William Hill) in this one. They are so strong. Luke Lewis ($15 Sportsbet) - what a machine. He has a great combination with Chad Townsend running back on an angle close to the line, and I can very easily see LL scoring first in this game.
Sharks - 1pt @ 1.47
Lewis First TS - 1pt @ 15.00